Democratic Debate Watch Party draws in contrasting views
The Young Democrats hosted their first Democratic Debate Watch Party in Shackleford Auditorium, drawing students with political views on each side of the spectrum. Because the Thursday debate was set to last through study hours, several tables were set up to offer students a space to multitask.
According to Davan Reece, the president of Young Democrats, the club collaborated well together to create the best watch party they could. 
"Mr. Yarborough proposed this idea at our first Young Dems meeting, and we really hit the ground running at our last [meeting], last Thursday, so really we had a week to plan it," Reece said. 
Throughout the night, students applauded and shouted in response to the candidates' responses, expressing support and opposition. In order to encourage more people to attend, a raffle for a dozen of Krispy Kreme doughnuts took place during the first commercial break.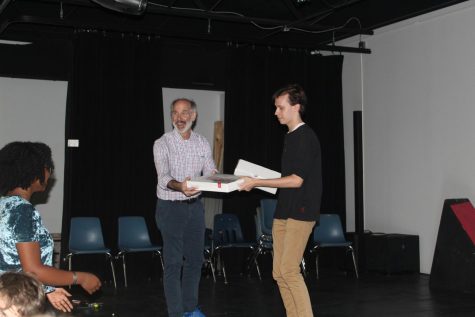 Several members of the Young Republicans and Young Independents clubs were in attendance as well. Dylan Johnson, an active Young Independent, said that he agreed more with Andrew Yang's views on healthcare and workers. 
"He's the only one really speaking facts," Johnson said. "Other people are just going up there and being like every other presidential candidate we've ever had."
Niamke Buchanan, a Young Republican, came to learn more about his opposing party. 
"I just came in thinking that I'll look at everybody and see who has the best policies and what I agree with the most," Buchanan said. "And even after the first and second debates, I really didn't like any of the candidates, but after tonight, it's really still showing that Joe Biden is really the one that I agree with the most, even though he's still a bad candidate in my eyes."
According to Reece and the Young Democrats, this first watch party was a strong success.
"I'm very proud of the turn out of this event," Reece said. "I wasn't expecting so many young people to be so energized about the future of our country, and I'm very glad that with the help of the rest of Young Democrats that we were able to put this on and feed their political needs."
Additionally, Reece says that the Young Democrats plan on hosting more student outreach events, such as watch parties, and they plan on talking to the official Young Democrats organization.