Waves battle harsh weather in Oxford
"
We were like, 'We came here, so we're gonna swim!'
— Samantha Broussard
The MSMS swim team travelled to Oxford, Miss. for their second meet of the year on Thursday, Sept. 12. After experiencing an hour-long weather delay due to lightning that caused the meet to be cut short, the Blue Waves finished in eighth while the Lady Waves failed to place.
Lightning struck during warm-ups, prompting several teams to leave the meet, but the Waves held out until the meet was cleared to continue.
Regardless of the storm, the captain of the Lady Waves, Samantha Broussard, was determined to swim.
"A lot of teams left, but we stayed through the whole delay," Broussard said. "We were like, 'We came here, so we're gonna swim!'"
Although not every event was included, senior Elijah Dosda was also glad the meet was not canceled.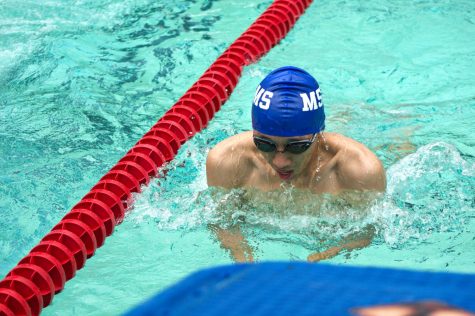 "I think we were out of the water for almost an hour," Dosda said. "They were thinking about canceling the meet if there was another lightning strike. Luckily enough, we were able to start, but they did cut out the relays."
Even though the pool on the MUW campus is currently closed, forcing the team to travel to New Hope to practice, the Blue Waves still managed to display a few noteworthy finishes. Dosda and junior Michael Lu both finished in the top 15 of the 50-yard freestyle, which consisted of 59 competitors.
Broussard also finished similarly, placing ninth in the 100-yard backstroke out of 25 competitors. Although the Lady Waves did not place at the meet, she remained positive about their performance.
"I was very pleased with how I performed, and it was really a good meet for the team overall," Broussard said.
Dosda shared similar thoughts on the team's finish and praised new swimmers for their improvement.
"Overall, the team did really well, even though some of us were sick," Dosda said. "We're really shaping up to be good, and I'm impressed with the level and amount of athletes in this junior class. It's been really fun watching them grow and get better every week."
The  team will continue competing with the goal of making it to the state competition. Their next meet was held on Tuesday, Sept. 17 in Tupelo, and they will be traveling back on Tuesday, Oct. 8.