Waves XC off to a running start at first meet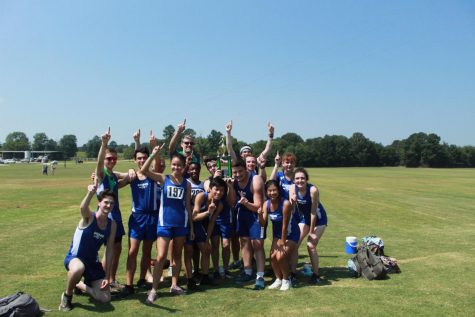 Last Saturday, Sept. 7, the MSMS cross country teams kicked off their season with the first meet of the year at the Mooreville invitational at Hussey Sod Farm. Despite the scalding Mississippi heat, the Blue Waves still managed to keep the pace and take home the first place win.
The boys team won the meet as a team for the 1-3A division. Junior Bryce Harrison was not only the first MSMS runner to finish, but he was also the individual winner of the 1-3A division with a time of 18:29. Junior Luke Bowles finished soon after, placing third. Juniors Nicholas Bryant and Colby Brown quickly followed suit, finishing in sixth and tenth, respectively, putting four MSMS runners in the top ten. Junior Matthew Dunn finished off the scoring team at fifteenth, securing the win for the Blue Waves.
Though they were not scored, the rest of the boys team ran well, with senior co-captain Elijah Dosda coming in 21st place, senior co-captain Aiden Leise at 24th, senior Reggie Zheng at 26th, junior Max Grossman at 27th, and senior Will Sutton at 29th.
"It's a great confidence booster for the team overall," Bowles said, speaking on their expectation-exceeding performance. "I think we really needed to just show that even though people don't expect us to be good, we're still a very good team."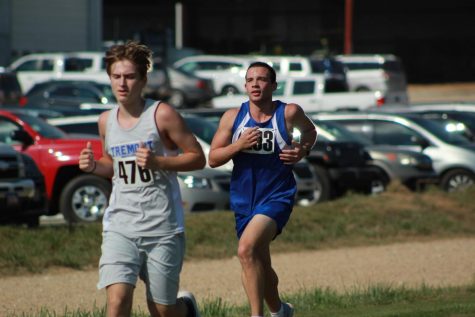 For the Lady Waves, captain Linda Arnoldus led the team with a 5k time of 28:47, placing sixth out of all female runners from 1-3A schools. Senior Niyah Troup and junior Skylar Nichols finished shortly thereafter, placing 10th and 13th respectively. Rounding out the girls team was junior Fiona Davis, who finished just after her teammates at 16th place. Because five runners are required to finish for a team's total to be counted, the Lady Waves did not place at the meet.
"If we had one more [runner], we would have [had] enough for a whole scoring team," Coach Brian Burnes said. "Their times were competitive so we probably would have placed as a girls team if we had enough people."
"Even though we didn't have enough girls run to place, every runner did amazing," said Arnoldus, not disheartened about being unable to place. "I do hope more girls consider joining, though."
The Blue Waves initially placed second at the meet due to junior Colby Brown being looked over by officials. However, the mistake was quickly fixed, and all the team had left to do afterward was celebrate their victory.
"We were ecstatic when the boys team won first. Since we are usually overlooked as a team, it felt good for a 'nerd school' to take home the trophy," Arnoldus said. "After winning, we chanted 'nerd school! nerd school!' for a solid five minutes."
Catch the MSMS cross country teams at their next meet on Saturday, Sept. 14 at Tupelo High School.