Bryant: Yang has no real shot at the Democratic nomination, but…
Andrew Yang, a 2020 Democratic presidential candidate, will most likely not win the nomination. 
In recent polls, Yang is averaging around 1 to 5 percent. Historically, candidates with similar percentages, even this early in the race, have a very small chance of winning. This may not be a very unpopular or revolutionary opinion, but it is important to establish what position Yang is coming into the primaries with. He isn't coming into the race as the first most likely to win, or the second, or even the third. However, that isn't the point. Yang is introducing the country to new policies that would not have been considered if he hadn't run.
Yang's most popular proposal is the "Freedom Dividend." It is a type of Universal Basic Income (UBI) that gives $1,000 to each person over the age of 18 every month. Yang thinks this is necessary because of the threat of automation to low skilled jobs. He believes that the invasion of automation into manufacturing was responsible for presidential candidates like Donald Trump. Currently, most Americans are still hesitant to accept progressive policies such as UBI or universal healthcare. 
By qualifying for the first three rounds of  Democratic debates, Yang has started the conversation on these topics. He is exposing young and old voters to policies that have been very successful in Europe. Whether or not you agree with him, you must admit that it is important that these topics are debated.
In an ideal world, American politics would be a beacon for a public forum and open discussion. Reality couldn't be farther from this. Politicians answer questions about their policy very vaguely in order to escape accountability. Yang has been very open about his campaign and where he will acquire the funds to support massive programs like a UBI. His entire platform is available on yang2020.com. Yang's transparency shows Americans what the future could look like if politicians are expected to be upfront in their campaign. 
The days of under-the-table donations to shady politicians could soon be over. With the rise of technology, campaigns have never been more reliant on the internet to promote themselves. This is good for voters in two ways. First, it allows anyone with a connection to the internet to find out anything they want to know about a candidate. Secondly, it makes questioning the morality of politicians very easy. Every questionable action performed by potential candidates is put under a spotlight by the media, fostering an atmosphere of accountability in politics.
While Yang has no realistic shot of winning the 2020 Democratic Primaries, he does have the opportunity to start a shift in the Democratic Party. I share my frustration with many other young progressives. We are tired of middle of the road Democrats who won't stand for anything real. We want someone who is strong enough to defeat Donald Trump in re-election. That won't happen if democrats continue to ride the middle line for the sake of electability. 
The odds of Yang winning the nomination don't look good right now, but he is building the foundation necessary for someone similar to him to win in the future. If the future is bright and everything that we strive for comes true, Yang will be written in the history books as an essential part of the path to a greater nation.
Hang on for a minute...we're trying to find some more stories you might like.
About the Writer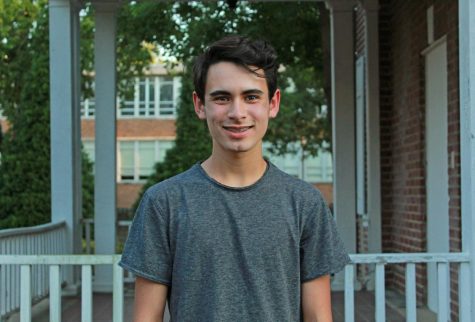 Chandler Bryant, Staff Writer
Chandler Bryant is a junior at the Mississippi School for Math and Science. He enjoys studying science and social studies. Bryant is originally from Starkville,...