'Little': Five Stars?
On April 12, 2019, the new movie "Little" was released in movie theaters worldwide. This movie, produced by 13-year old Marsai Martin, has led to groundbreaking reviews, blowing up bigger than anyone could have ever thought. It starred actors Issa Rae, Tracee Ellis Ross, Justin Hartley, and Regina Hall, causing an even greater spotlight to be cast on it in the debut of this new film. This movie looks in on a frustrated and spiteful woman, Jordan (Regina Hall), who works as a well-known tech mogul that wakes up as her 13-year old self, played by Marsai Martin.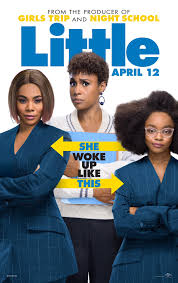 Jordan's life was turned upside down by the sure flick of a "magic wand." Throughout this Jordan's assistant April (Issa Rae) helped her through these times and made sure she was sane, despite being skeptical at the idea of a grown-up turning to a child at first. Even though Jordan is her 13- year-old self, she constantly can be seen growing as an adult throughout the movie. When she is forced to go to her old school because of her age, she is met with a lot of difficulties, including the classic movie cliche of a bully. While in school, Jordan even develops a crush on her teacher, inserting a comedic view on the movie. Jordan is also met with a challenge when her boyfriend (Luke James) can't get used to the idea that his girlfriend is now 13. It can be said that this film is a twist on the movies "Freaky Friday" and "Big." The movie was die-hard funny and kept me thoroughly entertained.
Universal Studios
The role of 13-year-old Jordan (Marsai Martin) was acted out beautifully and mirrored a lot of the attitudes and humor that she displays as the evil twin in the hit show "Black-Ish". Although this movie was hilarious in all aspects of the word, I felt as if a lot of the jokes could've been furthered. The producers of this movie almost seemed scared of touching on sensitive topics, such as race. This made the movie a little less enjoyable, whereas if they went to a certain extinct on these jokes it would've truly laugh-out-loud hilarious. It was almost as if they were scared to divulge all the way into the jokes. Despite that, the movie made for an interesting time and watch. It was uplifting and chuckles could be heard throughout the movie theater for the entirety of the film.