Vision Staff Impresses at Journalism Conference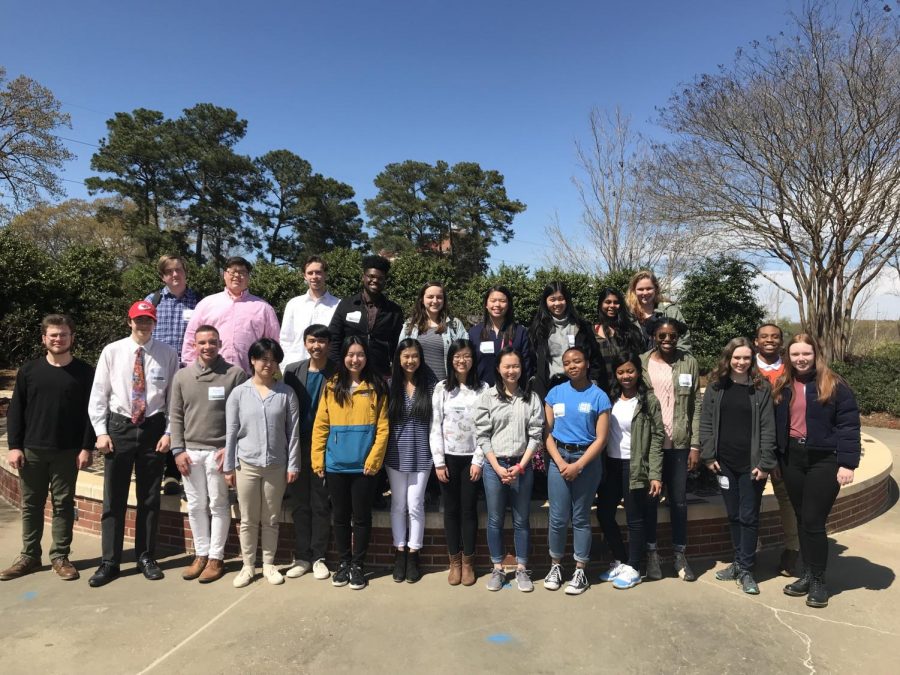 Members of The Vision staff traveled to the University of Mississippi on Monday, April 1 for the Mississippi Scholastic Press Association (MSPA) Spring Conference, competing in journalism categories and attending seminars alongside 67 high schools across the state.
Greeted with cold weather and a complimentary breakfast, students from across the state congregated in the Grove before hearing opening speeches from MSPA Director R.J. Morgan and Will Norton Jr., the Dean of the School of Journalism and New Media. This year's conference theme was "Cutting Through the Noise." Many of the sessions such as "Listening for the Story" and "Fighting for Your Rights" aimed to encourage the student journalists to find their voice in an era where everyone is talking, and no one is listening.
At 9:30 a.m. everyone dispersed and headed to their various sessions.
"For the conference, it was an enjoyable experience, learning from so many professionals from their areas of expertise," said junior Elijah Dosda. "I learned about documentaries and filming, mostly. It's an area I really want to grow and become more acquainted with."
"I learned that the oral history approach is an option for those going into the journalism field and that oral history concentrates on amplifying the voices of individuals that definitely wouldn't have been noticed–people who don't really matter," said junior Ada Fulgham.
After a full day of traveling from room to room, gaining more insight on the different aspects of journalism, the writers paused for a lunch break before making their way over to the Ford Center for the Performing Arts for the closing session.
The keynote address was given by Mississippi Public Broadcasting Journalism Director Ronnie Agnew. With over 20 years of journalism experience, he encouraged students to pursue careers in the field.
Following his speech, Morgan was welcomed back to the stage to recognize the finalists and winners from the various contest categories. The Vision took home 22 certificates — more than the last 2 years combined. The Carry-In Contest accounts for works that are published after the deadline for the "Best of Mississippi" categories.
Carry-In Contest
News Photo–Gina Nguyen, Finalist
Feature Photo–Helen Peng, Winner
Headline–Davan Reece, Finalist
Lede–Davan Reece, Winner
Best of Mississippi
Feature Story–Mariat Thankachan (c/o 2018), Finalist
Opinion Piece–Davan Reece, Finalist
Staff Editorial–Yousef Abu-Salah (c/o 2018), Winner
Review–Dairian Bowles, Finalist
Review–Hayden Stokley (c/o 2018), Finalist
Review–Helen Peng, Winner
Editorial Cartoon–Abigail Barker, Winner
Sports Story–Elijah Dosda, Winner
Sports Story–Victoria Gong, Finalist
News Photo–Gina Nguyen (x2), Finalist
Feature Photo–Gina Nguyen, Finalist
Feature Photo–Michelle Luo, Finalist
Sports Photo–Elijah Dosda, Winner
Page Design–Michelle Luo, Finalist
Best Online Presence–The Vision, Finalist
Best Social Media Presence–The Vision, Finalist
Adviser of the Year–Thomas Richardson, Finalist
"I was shocked when I saw my name," Dosda said. "I've learned so much in my first year, but with fellow student journalists and photographers I really respect and look up to, I never expected to win or even place. I was so happy, and I'm glad that my passions got me here."
"I'm really lucky to advise a group this year that has brought into all the work required for producing a quality student newspaper. There are a lot of moving parts, more than many people realize, and it takes dedication to put it together every week," said Vision advisor, Thomas Richardson. "I've been impressed with how students have pursued serious subjects and inserted themselves into professional situations."
In addition to these awards, four juniors were selected to attend the 2019 Invitational Journalism Workshop for High School Students at Ole Miss this summer: Elijah Dosda, Gina Nguyen, Davan Reece and Cameron Thomas. The majority of their work will be done from home, and they will have several in-person meetings throughout the summer.
"I can't wait to participate in the workshop and truly better my craft as a journalist," Reece said. "I am so excited that I was granted this opportunity."
"I look forward to interacting with people from across the country and learning more about the logistics of journalism," Thomas said. "I feel like you learn best from your peers, so I'm hoping this will be an enlightening experience."
When the team returned to Columbus, they brought back new ideas and inspiration to implement in future issues of The Vision.
About the Contributors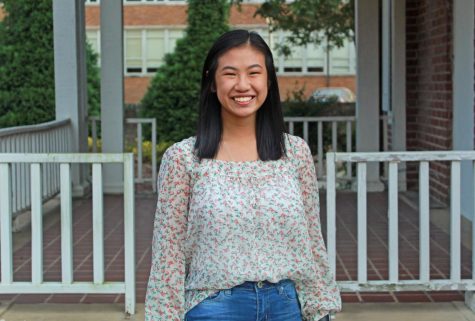 Gina Nguyen, Editor-in-Chief
Gina Nguyen, this year's Editor-in-Chief, is from d'Iberville, MS. Nguyen previously served as the Photography Editor. She is a member of the MSMS Graduating...