Eight MSMS Students Advancing to Intel International Science and Engineering Fair
On Friday, April 5, ten students from MSMS traveled to Northeast Mississippi Community College to compete in the Mississippi State Science and Engineering Fair. These projects ranged from studies on the human microbiome to mathematical models.The students placed in all their categories.
In math and systems software, Dennis Lee placed first with a project of real time monitoring of physical activity using accelerometer data, also winning best of show (first overall). Hamilton Wan placed first in Biomedical and Health Sciences, after he created a mathematical model for diseases in dynamic populations that can be flexibly applied to various diseases and populations over space and time, effectively analyzing public health interventions.
"I applied my model to predict the progression of Zika and measles virus outbreaks in the Southern United States and in New York City, respectively, using data that I gathered from the US Census Bureau and literature. I also used my model to analyze the effectiveness of public health interventions such as vaccination strategies and partial travel restrictions," Wan said.
In Microbiology, individual Bryonie Mandal, team Maria Kaltchenko and Bertha Mireles and team Reggie Zheng and Helen Peng placed first, second and third, respectively. Edith Marie Green placed second in Behavioral Science, and Vayd Ramkumar placed fourth in Earth and Environmental Science.
Senior Kalchenko's project involved testing the effect of the neurohormone melatonin on a key member of the gut microbiome universally found in the human population, E. aerogenes.
"We found that higher concentrations of melatonin in media caused greater growth of the bacterium in a dose-dependent fashion (p < 0.0001 using an ANOVA test). This has significant clinical implications because if melatonin can be used to dramatically alter the proliferation of a member of the gut microbiome (and thus play a significant role in its regulation), it could potentially be used therapeutically in the correction of gut dysbiosis and underlying illnesses," Kaltchenko explained.
After advancing from regionals, the students gathered comments and criticism from the judges to improve their projects for state. "From regionals to state, I learned to prioritize my method in the presentation. Otherwise, I had a similar approach. I'm proud of how I did, and I'm even prouder of the other MSMS students! We had a really strong showing at all of our fairs," Green said.
The sponsor, Dr. Gibson, enjoys taking her students to these competitions, watching them develop scientific research skills and meet others with similar interests.
"No other competition will offer students the opportunity to mingle with approximately 1800 students from 75 different countries, regions and territories for scholarship and cash prizes. My former students always tell me they make friends for life at ISEF, and wouldn't trade the experience of anything," Dr. Gibson said.
For those interested in competing in future science fairs, Dr. Gibson recommends for students to begin in the summer. Students tend to write and rewrite their topics, narrowing it down and perfecting a timeline of how to attack the problem.
"Generally, students want to solve a problem that has affected them in some way, either through family or friends. However, be receptive to the idea that your neighborhood, city, state or nation have problems that need to be tackled as well. It takes time and a lot of planning to make it happen," Dr. Gibson said.
Tsang, Ramkumar, Lee, Kaltchenko, Wan, Mireles, Zheng and Peng will advance to represent MSMS at the International Science and Engineering Fair in May.
Hang on for a minute...we're trying to find some more stories you might like.
About the Writer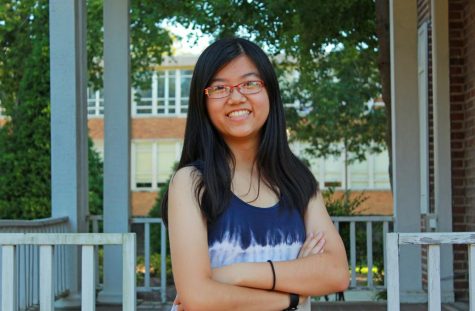 Rachel Zheng, Web Design/Layout Editor
Rachel Zheng, the Web Design and Layout Editor for The Vision, is from Madison, MS. She is currently a senior at MSMS. When she isn't in her classes, Zheng...