Tales From The Crypt: An Insight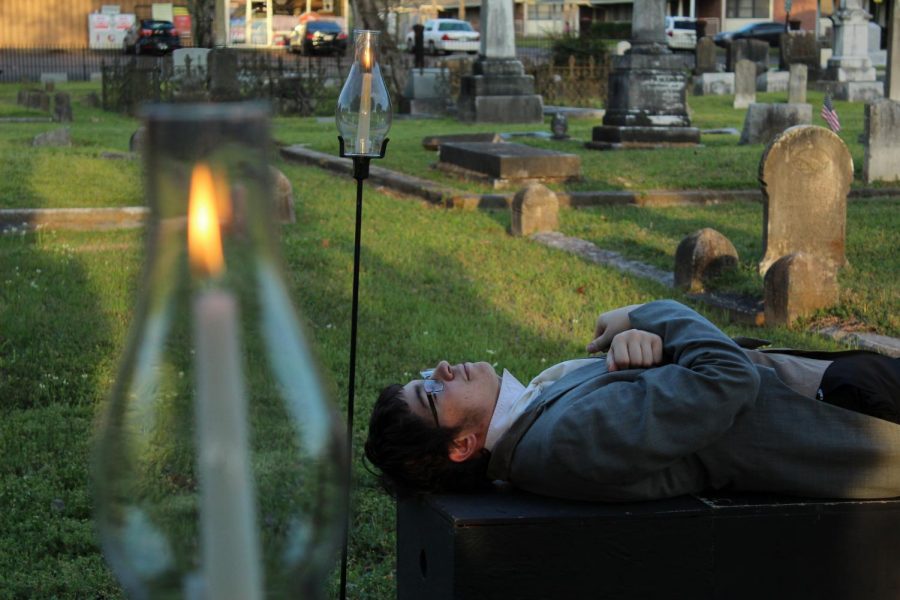 The first thing you feel is the jolt of a time traveler entering another era. The gravestones of Friendship Cemetery are lit by candles that in turn illuminate the performers: girls in satiny hoop skirts and lacy bodices, the boys dressed as men from various stations of late 19th to early 20th-century society. The cars of the visitors to the performance are hidden mostly in darkness–matched with the otherworldly candle-lit scene of the silent grove that is the cemetery–which creates the feeling that you are in another place, another time.
This is Tales from the Crypt, a unique opportunity for incoming MSMS juniors to explore history through intensive research combined with dramatic performance. Students in the class are expected to choose a person buried in Columbus' Friendship Cemetery and begin to research their subject's life with the intent of creating a performance script. This year, 48 students are participating in the project, either as performers or as cemetery guides.
The first half of the course is dedicated to research. MSMS students utilize the project's partnership with the Columbus-Lowndes County Library (as well as seeking out other resources) by frequently perusing the historical archives housed there. The second half of Tales is dedicated to developing scripts that both creatively and accurately represent the lives of the people researched by each student. Finally, auditions determine who is to perform in the cemetery at the specific individual's gravesites, an event that was held this year on March 29 and April 1st, 3rd, and 5th.
This year is the 29th annual rendition of the project, originally created by founding MSMS faculty Carl Butler. This tradition has been cultured to its familiar renowned glory by Mr. Chuck Yarborough, who says that it is a rewarding and ever-changing experience. "Every year Tales is new and different because students conduct original primary document and contextual research into individuals that have not been previously researched," he says. Yarborough also expresses that this year his students who made the audition cut to perform have focused their script research on topics that involve "injustices regarding gender, race, religion and class as topics they wanted to explore through performance."
Yarborough goes on to say that the project first birthed by Carl Butler has "remained true to its first intentions: to offer our students college-level research and writing experiences, to help them develop their public presentation skills, and to teach that all of us can make significant contributions to our local communities." Service to the community is one of the defining features of Tales, and Yarborough expresses that that is the most rewarding feature of the project. "My favorite part of Tales every year is witnessing our students perfecting their collaboration in service to our community. I also enjoy seeing the students realize how effectively they can present themselves and their ideas if they prepare themselves for that success!"
Auriel Quiroz is one of the performers for the project, a junior from Ocean Springs with an avid interest in chemistry and art. Quiroz plays the part of Sarah Bibb Hardy, second wife to Cornelius Hardy who is also buried in Friendship Cemetery. While Quiroz states that it was somewhat difficult to gather information about her, the fact that Sarah was committed to an insane asylum later in her life shapes both Quiroz's performance and her deeper understanding of her subject. She describes Hardy as "strong," a quirky coincidence given her married name. "It takes a lot for someone to be a second wife and without having any children with the husband especially during that time and of course the whole asylum bit and how she had to go through that all alone." Quiroz's experience while researching Hardy's life is just one example of how Tales impacts students, as she shows empathy and enthusiasm for her subject's life. She used Hardy's condition to shape her story, exploring the conditions of patients of mental institutions during that time period through her expressive performance. Quiroz says that performing such an intricate character can be exhausting, however. "Especially since I go from happy to sad to screaming to happy to sad, hahaha, I go through a lot of emotions."
Despite the time and intense research, Quiroz says she doesn't regret doing Tales. "I really enjoyed getting to walk to the library and kind of getting some time off [MSMS] campus and getting to look through a lot of documents. I was especially excited getting the experience of looking through the film in the archives. It definitely was worth the time and workload. However I am not going to lie and say I didn't complain a lot, but being able to participate in something so big is [something] really special that you don't get too often."
Quiroz says she was unprepared for the amount of time dedicated to the project but was enthusiastic when first beginning Tales. "I did not know what I was getting into…I did not realize how often I was going to have to perform and how late it would be. The researching part was expected but the performance was just exhausting."
Despite this, Quiroz says she would still advocate for incoming students to take the course, saying that it is a vital and unique opportunity that MSMS offers. "I definitely would recommend new juniors to take this class. Yes it is hard work but really some of these kids may have never done actual hard work because of their academic advantage. I think it would be a crime to just pass a great opportunity like this just because of a little extra work. Being able to be a part of a huge community event is just something you don't get to be a part of every day so take advantage of it."
About the Contributors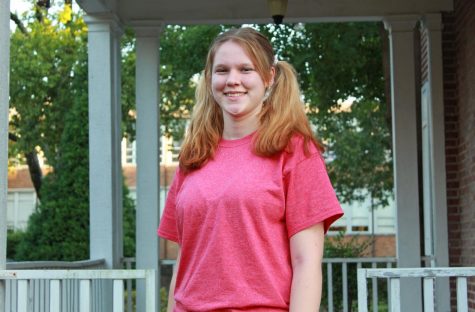 Ada Fulgham, Student Life Editor
Ada Fulgham is the Student Life Editor for The Vision, and is a member of the MSMS class of 2020. Reading, writing, singing, making and listening to music,...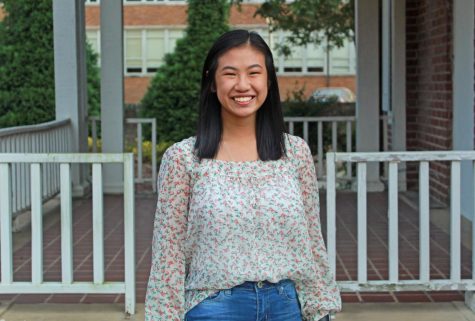 Gina Nguyen, Editor-in-Chief
Gina Nguyen, this year's Editor-in-Chief, is from d'Iberville, MS. Nguyen previously served as the Photography Editor. She is a member of the MSMS Graduating...