Unlocking Her Future: Tyra Lockett
As soon as senior Tyra Lockett's alarm goes off, she spends 10 minutes checking her notifications before dragging herself out of bed. She then blasts her music as she prepares for the day. Lockett is a senior here at MSMS originally from Brooksville, where she attended Noxubee County High School.
Like most, Lockett came to MSMS because she wanted to give herself a better education. "I came to MSMS to pursue an advanced level of education while being surrounded by like-minded peers." However, coming to MSMS was a difficult transition for Lockett. "I came from a low-performance school, so the transition was tough. However, the faculty at MSMS refused to see students fail," explained Lockett. "I spent numerous hours in office hours and tutorials. My grades from junior year to senior year truly reflect my growth."
Before coming to MSMS, Lockett was a member of the French Club and theater. Many are not aware of this, but Lockett was a basketball player, a sport she explained she wanted to play before graduating high school. "I liked playing basketball because of the strategic aspects of basketball caught my interest. There's more to the sport than dribbling a ball."
Here at MSMS, Lockett is involved in many clubs. She is a member of Future Business Leaders of America, Students Against Destructive Decisions, Future Physicians of America, and Fashion Board. During her free time, Lockett enjoys things all teenagers like doing, like listening to music, watching Netflix and eating unhealthy snacks.
"I mainly listen to Ariana Grande's new album or Rihanna. She never disappoints. Sour patch kids and hot fries are my favorite snacks."
When she isn't completing stats homework or taking selfies, Lockett likes to spend her time volunteering in her community. "I participate in the Hot Dog Ministry at St. James Methodist Church through the nonprofit organization Project Power. We give away food to the needy community around the Columbus Area."
Lockett has always had a passion for community service because she feels she is making a change. "There is only so much I can do at a young age. Volunteering allows me to give back to my community as well as surrounding areas and interact with the residents who make up the small towns."
Lockett wants to attend the University of Mississippi in the fall. There, she will major in biology and prepare to one day become a pediatrician.
"
"I have a passion for both the medical field and helping kids (especially babies) so becoming a pediatrician would fit both interests.""
— Tyra Lockett
To the current juniors, Lockett leaves them with this token of wisdom: "Dear junior class, do not procrastinate. You need to start on assignments the day teachers assign them. It will make a difference in the long run.
Hang on for a minute...we're trying to find some more stories you might like.
About the Writer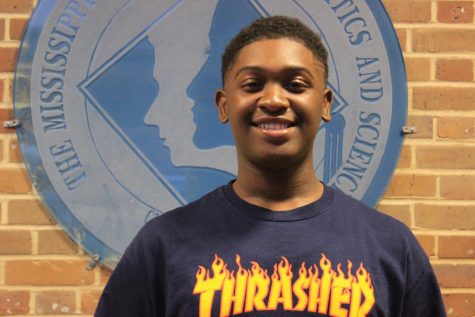 Tyler Branch, Social Media Assistant
Tyler Branch is a senior who is a part of The Vision. He enjoys hanging out with family and friends and showing goats in the 4-H. He is also a part of...