MSMS Students Travel to FBLA Competition
MSMS' chapter of Future Business Leaders of America team traveled to Northeast Mississippi Community College in Booneville, Mississippi, to face off against other regional schools.
FBLA Competitions are divided up into multiple categories in which students vie for the top spot. Some of these categories include Impromptu Speaking, Broadcast Journalism and Marketing, among others.
Loveish Sarolia, a senior from Kosciusko, has participated in FBLA for all two years of his MSMS tenure and was very excited to return to Northeast for this competition. "It was very tiring but also extremely fun and rewarding."  
"I think overall everyone was pretty successful," Sarolia said. "I got second place in my Computer Problem Solving competition. Since I am going into computer science, I am confident and hopeful that this will help me as I prepare for my college career and life after MSMS. Joining and competing in FBLA has been a real net-positive in my life."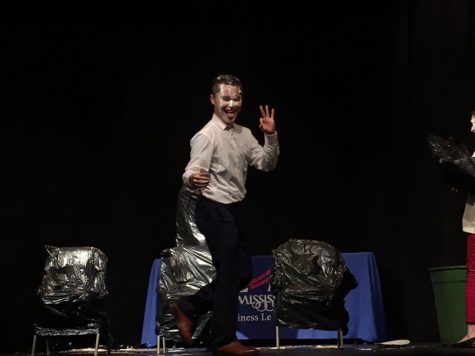 Senior Alan Elgin scored big on Thursday by getting first place in the Business Calculations section of the competition.
"[The competition] went pretty well," Elgin said. "Almost everybody placed in their respective section. I did the same competition the year before, so I was very prepared going into it this year around, and extremely excited to see where this team will go next. Overall, I would say that I am proud to be apart of the MSMS FBLA team."
"I feel like our school did really well considering our size," senior Advaith Sunil said. "I got first place in Political Science, which was basically everything I learned in Dr. Hester's government class last year."
Sunil had nothing short of praises for his teammates. "I am very proud of the way they competed, and I believe that we will perform even better at state than at district."
"I was very proud of the turnout that our chapter had and the number of top placings we received," said Chapter Vice President and FBLA State Reporter Devin Chen. "I feel like our team really came together, and I'm relatively confident about state, even though it will be more competitive than regionals."
Chen also had words of affirmation for his fellow members, even after they hurled a scrumptious dessert toward his facial area. "Our members are genius and competent and will undoubtedly outperform in Jackson," said Chen, "As long as I don't get another pie in the face."
Following this competition, the MSMS FBLA team will make the journey to Jackson for the Mississippi FBLA State Leadership Conference on April 2.