National Merit Semifinalist Ellie Hinton Expresses Affection for Math
"Ellie's enthusiasm and excitement for mathematics makes her a complete joy to have in my classroom; I'm happy she's taking many of the math classes that I teach," said Dr. Philip Benge, one of Ellie Hinton's favorite teachers here at MSMS.
Ellie is a member of the group of students at MSMS who were honored by receiving notification of their status as a National Merit Semifinalist. She says her secret to her high PSAT score was an intensive test-prep class she took her sophomore year, as well as studying in August her junior year for the test.
Of course, high test scores aren't even among the things Ellie considers important in her life; in her free time, she enjoys a few stress-relieving hobbies like crochet, reading and playing video games.
Ellie is a member of the MSMS GSA Club and the Philosophy Club; in both clubs she enjoys hearing other club members share their unique experiences and perspectives, whether the topic be existentialism or civil rights: "GSA has really helped me to open up to the school this year.  It was a big shock coming from my old school, and the supportive environment that GSA fosters has made me feel comfortable to be open for the first time.  GSA has a wonderful community, and it feels great to be a part of it."
Originally from Southaven, Mississippi, she attended DeSoto Central High School before coming to Columbus.  Ellie plans to attend the University of Mississippi for the upcoming fall semester. She applied to Princeton University in an Early Decision application, but was wait-listed; she admits that even if she got in, she likely would end up paying more than she was comfortable with.
Her college and career plans include majoring in math and becoming a teacher at whatever university she thinks best suits her; when asked why she loved mathematics so much, she replied, "Math has always been a favorite of mine due to its applicability to the sciences; it lays the foundation to progress in other fields.  Additionally, unlike most fields, math is largely objective; barring statistics, math is black and white in nature.  There is a correct and an incorrect answer to every problem; I guess you could make some lazy analogy about how it's unlike real life in this regard."
Hang on for a minute...we're trying to find some more stories you might like.
About the Writer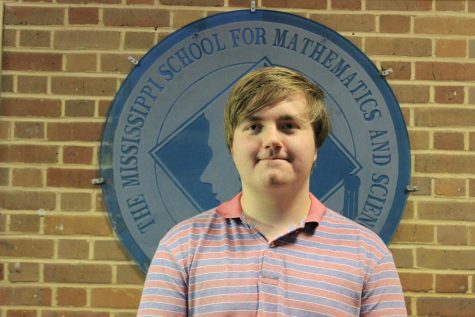 Timothy Lewis, Opinions Editor
Timothy Lewis is the Opinions Editor for the 2018-2019 school year for The Vision.  His hobbies include knitting, reading, napping at odd hours, and overdosing...