MSMS Celebrates MLK Day with 'Selma' Movie Showing
On the evening of Jan. 26, 2019 in Hooper Auditorium, Goen Residence Hall Director LaToya Bledsoe hosted a movie, "Selma," showing the efforts of Dr. Martin Luther King Jr. and his followers in Selma, Alabama, fighting for equal voting rights for African Americans.
The movie "Selma" was released in 2014. Directed by Ava Duvernay, Selma is a historical drama film commemorating the 1965 Selma-Montgomery march, which was also known as the "Bloody Sunday" march.
Bledsoe picked this movie  in order to further educate MSMS students and staff members of King's accomplishments.
"[Selma] was a great movie highlighting the events leading to the Voter Registration Act of 1965, and the demonstrations the late Dr. Martin Luther King Jr. led fighting for the right to vote," Bledsoe said. "It is important for me to educate our students on the challenges faced for those who came before us. We just recently celebrated Dr. King's birthday and his national holiday. He would have turned 90 years old this year and it's always a great thing to educate our young people on his legacy and what he fought and died for."
Cameron Lee and Cassian Shanahan, who are both seniors at MSMS attended the movie showing.
"I really liked the movie. I thought it did a really great job of capturing the thoughts and feelings of many African Americans in America during the Civil Rights era. It was really educational and showed lots of the problems people had to face just to be able to vote and control their own lives," Shanahan said.
Shanahan said it was his first time watching the movie and that he had been wanting to see it before.
He also shared a movie scene he found memorable during the event.
"There was a scene where Martin Luther King Jr. was motivating activists by talking about the difficulties faced by black Americans and how these difficulties and discriminatory requirements made it to where they would never be in a position to change their lives and the laws oppressing them."
Lee enjoyed the event and movie as well.
"It was interesting to see how many people had to lose their lives in the fight for civil rights. It's not something that was really talked about in the history class at my home school," Lee said. "The most memorable part of the movie was when an elderly black man said his son promised him he would vote before he died. I instantly started bawling."
In 1965, through this significant march and the diligent, peaceful protests by King and his followers, President Lyndon Johnson called for a federal voting rights legislation in order to protect African Americans from being unable to vote.
Bledsoe had also brought food for the students and residence life staff members.
"It was a great event. Ms. LaToya brought food for us and seemed very passionate about the movie she was showing." Lee said.
Bledsoe plans to show another movie in March to honor Women's History Month.
Hang on for a minute...we're trying to find some more stories you might like.
About the Writer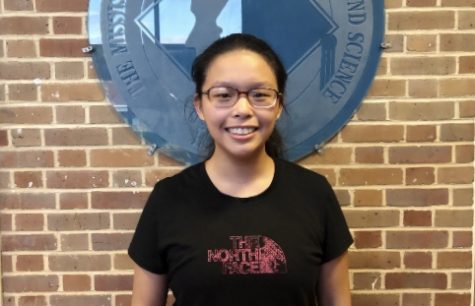 Hua Chen, Staff Writer
Hua Chen, a staff editor for The Vision, is from Lucedale, Mississippi. Currently a junior at MSMS, she spends her time stalking the media, practicing...