2019 'Tales' Performers Announced
After a semester of research and long walks to the downtown Columbus/Lowndes County Public Library, over 40 juniors from Mr. Chuck Yarborough's Tales from the Crypt classes took the stage of Shackleford Auditorium to audition for their respective roles on Monday evening, Jan. 21, and Wednesday evening, Jan. 23. Of those students, 16 were selected as performers for the final Tales of the Crypt show:
Individual Performances:
Cameron Thomas
Auriel Quiroz
Violet Jira
Olivia Viguerie
Aiden Leise
Taylor Willis
Niyah Troup
Linda Arnoldus & Samara Swims
Elijah Dosda
Decoration Day Ladies:
Sophia Comino
Alisha Burch
Catherine Li
Samantha Holland
Amyria Kimble
Andie Nanney
This rigorous, college-level research and writing project was founded 29 years ago and has evolved into a nationally-recognized performance and community service project through the public performances at the historic Friendship Cemetery. Students honor those buried in Friendship Cemetery by exploring their local and national relevance as well as attempting to uncover and tell their life stories.
"
If you're looking looking for a way to synthesize everything that students do, probably the best way to complete that synthesis lies in performance."
— Thomas Easterling
Even though the performance and community service phase is the aspect which receives the most recognition, Tales students work diligently the entire first semester by conducting research and writing research papers.
"The quality of primary and secondary document research coupled with contextual research and understanding have to be strong in order for the project to succeed," Yarborough said.
In preparation for their auditions, each student had a different approach in writing their script — all earnestly attempting to make their performance stand out. While the performance came more naturally to some, others had to work a bit harder to earn their spot.
"Over break, I literally wrote five different versions of the script trying to ensure that I would have the best I could get," performer Cameron Thomas said. "I was kind of nervous to perform, but I knew I had worked too hard to choke at the last minute."
"Acting before an audience isn't new to me," performer Violet Jira said. "It was different, but exciting, to have the opportunity to perform before an audience that I felt I knew well. When Mr. Yarborough announced before break that our script would be due soon after we returned, I wrote my script that night and didn't really change it until the night before it was due."
As students filed into the auditorium, nervousness and excitement filled the air. For the first hour and a half, there were no volunteers; they were called up alphabetically by class. Dosda was the first to volunteer and initiated a wave of volunteers.
"I volunteered due to a mixture of wanting to get it over with and not wanting to forget the new, funny jokes I was coming up with while watching the performances," Dosda said.
Students went one by one to present their research subject in creative ways. Some made present-day references to President Obama and Cardi B while others lied in a coffin and conducted an investigation. Most of the research subjects' stories were told through the eyes of their relatives or other prominent people in their lives.
Thomas played the father of his subject's love interest, Jira played her subject's wife and Dosda played his subject's relative. Swims and Arnoldus even teamed up to play two stepsisters — something that doesn't happen often.
"I can honestly say that the selection process for the judges was as difficult as it as ever been, which speaks for [their] quality of work," Yarborough said.
Performances were judged by Yarborough along with a panel of 10 judges, all former Tales students. This year's judges were as followed: seniors Lane Hughes, Kaelon McNeece, Darian Bowles, Millie Perdue, Dev Jaiswal, Sera Hepner, Kiera Monroe, Erin Williams, Indu Nandula and Jack Shelton. Using a scoring scale, the judges looked for the presentation of historical facts, the connection of the story to the history and the potential of the performance. Additionally, the current Tales students who were spectating and auditioning were allowed to list their top six performers. The results from the judges and students were compared before being finalized.
Each judge tends to have more specific aspects they look for as well, and different things stand out to different judges.
"Personally, I look for potential, articulation, how comfortable they are on stage and even if they tie in social morals and messages," Monroe said. "As a whole, everyone did well; some of the introverted kids really came out of their shells and could really deliver."
"I specifically look for things like stage presence," Perdue said. "To me, you can make any story interesting if you really know how to connect with your audience and put people in the time instead of telling them a story."
Top female performers who did not make the cut for as individual performers are typically chosen as Decoration Day Ladies, women who started the tradition of putting flowers on graves at Friendship cemetery.
"
If you were wowed by auditions, just wait until Tales night."
— Millie Perdue
Those who were not chosen as performers become part of a production team for each of those performances. Narrators will conduct an introduction as well as a farewell while leading tour groups through the cemetery. A few students will work the ticket table, and others will direct parking. Some students will perform musical interludes, and everyone has a role in setting up, managing and tearing down each performance night. The contribution of each person is essential to make a significant impact on the community and state.
"If you haven't been around for Tales before, you might not appreciate that it's one of those things that makes MSMS what it is. We might be called The Mississippi School for Mathematics and Science, but the truth is that we make contributions to the lives of students in ways that transcend math and science," said MSMS English instructor Thomas Easterling. "If you're looking for a way to synthesize everything that students do, whether it is math-oriented, science-oriented or humanities-oriented, probably the best way to complete that synthesis lies in performance."
Over the next couple months, the performers will work on improving their scripts and performances. Some will work on rephrasing and rewording their monologues in order to have an emotional effect, and others will incorporate props and action to become more interactive with the audience.
"Auditions and final performances are nothing alike," Perdue said. "Sometimes, you make adjustments to your script in between performance nights. This event is a living thing; that cemetery comes to life because the hours of research and hard work students put in every year, so if you were wowed by auditions, just wait until Tales night."
Public performances will take place at Friendship Cemetery on March 29 and April 1, 3, and 5.
Hang on for a minute...we're trying to find some more stories you might like.
About the Contributor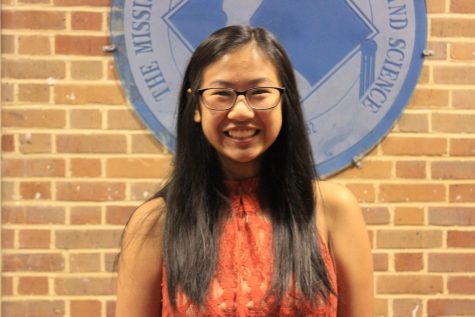 Gina Nguyen, Editor-in-Chief
Gina Nguyen, this year's Editor-in-Chief, is from d'Iberville, MS. Nguyen previously served as the Photography Editor. She is a part of the MSMS Graduating...