Chitmon: Math Lover and Future Healthcare Professional
Connor Chitmon was recognized as a National Merit Semi-finalist along with other 15 other of his classmates. Chitmon, known as Bubba by his family, fondly explains the backstory of his nickname,
"I got that nickname from my little sister when she was a baby and couldn't pronounce brother."
Chitmon now resides in Columbus after previously living in Panama City, Florida, Salt Lake City, Utah and Pyeongtaek, South Korea.
Living in all these places provided many great experiences for Chitmon and greatly influenced his future.
"I thoroughly enjoyed living in all the places I did. Each time my family moved, it gave me the opportunity to experience a new culture and lifestyle. I got to experience the ski slopes of Utah, the beaches of Florida, and the cities of South Korea; they were each unique and provided me with great, lasting memories"
Similar to many other MSMS students, the summer camps were proven to be influential to Connor as well.
"I left my home school because I had gone to some of the MSMS summer camps and loved everyone I met; for years I thought about how great it would be to be with people like me."
While at Heritage Academy Chitmon was both very academic and athletic. Here at MSMS, he channeled all of his energy towards math.
"Before I came to MSMS, I was a member of the football team and robotics team. At MSMS, I am a Mu Alpha Theta I am in charge of preparing some groups of people for the big statewide competition in a few months. I'm also getting ready for a physics competition at the University of Alabama in just a couple weeks." He then goes to say, "Mu Alpha Theta is probably my favorite activity here at MSMS simply because of how much I enjoy math."
By being at MSMS Chitmon has learned a lot that he plans to use in the future and continuing forward.
"MSMS and the clubs at the MSMS have taught me to push myself and try new things and to keep track of the work I need to do. The clubs have taught me how to prioritize different activities and how to manage multiple events at the same time; I believe that this will help me after graduation by letting me get more involved in school clubs wherever I end up."
Upon graduation Chitmon plans on entering the medical field, sharing his talents with other .
"Despite this interest in math, however, I am most likely to end up practicing medicine. I hope to be able to one day become a doctor or surgeon and practice helping others."
Hang on for a minute...we're trying to find some more stories you might like.
About the Writer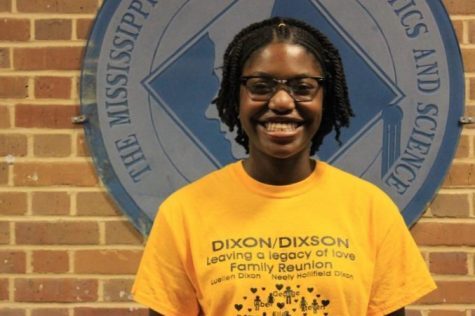 Corrin Dixon, Staff Writer
Corrin Dixon is 16 years old, and she resides in Mendenhall, MS. She is a staff writer in Class of 2020. She is interested in learning, writing, hanging...