Tennis Captain Erin Davis 'Serves' the Community
Erin Davis, a senior here at MSMS, participates in a multitude of after-school activities including the MSMS tennis team. Serving as the team captain, Davis is an integral part of the tennis team.
Davis began playing tennis in her ninth grade year but didn't her tenth grade year, so as luck would have it Davis began playing the sport again her junior year. Davis's involvement in tennis goes beyond the courts of MSMS.
"Some weekends when I go home, we have cardio tennis, so some mornings I'll do that. It's tennis, but it's also to keep you moving and get your heart rate going. It's kind of for old people, but I do it anyway. It's fun. I do it with my mom so I enjoy it," Davis said.
Davis doesn't spend all of her energy practicing tennis. She is also involved in soccer, Chemistry Club, Beta Club, and volleyball. With all of these other sports and activities she does it would seem as though she doesn't have time for anything. Thankfully, the different sports Davis plays take place in different seasons, so as soccer comes to an end, tennis begins to resurface.
After being the only junior who went to the tennis state championship game, Davis felt that the team needed a more experienced leader and she was willing to take that on.
Davis is more than a tennis captain at MSMS. She is also involved in numerous activities in her hometown. She is heavily involved with her church and even goes home almost every weekend to help out. Living all the way in Gulfport, Mississippi, it may seem like a hefty job, but Davis is committed in everything she does.
"During sessions of my youth group, we play games, and then we do a bible study, and for the summer camps we do we have a fundraiser. We do kind of like this dinner theatre, and it's kind of like a talent show-ish, but this year we're having a production that one of the people in our youth group wrote," Davis said.
Being involved keeps Davis on her toes and she likes it that way. Helping her church out in any way she can, eventually bringing the MSMS tennis team to victory as the tennis captain, and even making time for clubs, Erin Davis can do it all. 
Hang on for a minute...we're trying to find some more stories you might like.
About the Writer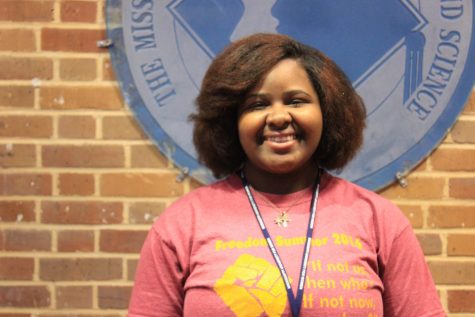 Jessikah Morton, Social Media Assistant
Jessikah Morton is a senior here at MSMS. She is a part of the social media section of The Vision. She is in BSA, Blue Diamondz, Spirit Squad, and she...