The Vision Editors Travel to Presidential Rally
The Vision Editor-in-Chief Helen Peng, News Editor Brady Suttles, Opinion Editor Timothy Lewis and Photography Editor Gina Nguyen traveled to Tupelo to cover the November 26 Trump rally held in light of the controversial run-off election between Republican Cindy Hyde-Smith and Democrat Mike Espy.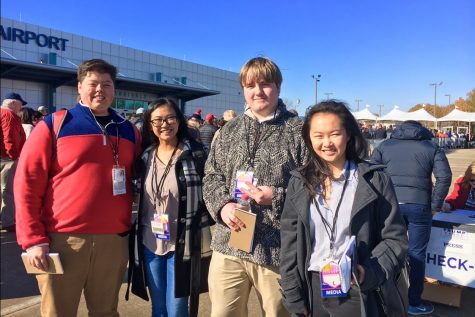 Hyde-Smith, appointed by Governor Phil Bryant earlier this year to take retired U.S. Senator Thad Cochran's seat in the Congress, ran against former U.S. Secretary of Agriculture Mike Espy. Hyde-Smith's campaign was fraught with controversial remarks such as a joke about attending a public hanging and suggested that it would be a "great idea" to make voting for college students "just a little more difficult."
A known supporter of Hyde-Smith, Trump traveled to Tupelo and Biloxi to reinforce her campaign. The November 26 rally was held at the Tupelo Regional Airport. There, media outlet representatives were sectioned off in the center of the crowd. The Vision editors obtained press passes, spoke with Trump supporters and stood in the media section, listening to the President's remarks which included his regular campaign rhetoric and choice words for the media itself.
"I was definitely out of my comfort zone," said Editor-in-Chief Helen Peng. "As an ethnic minority, it was especially different, but the experience definitely wasn't negative."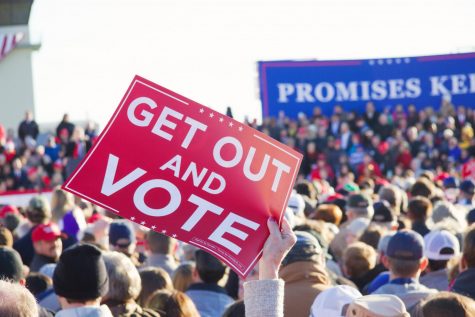 Peng wasn't caught off-guard with the President's comments to the media. "Without getting political, [the remarks] didn't surprise me at all. It's just sad that, as journalists, we report the truth and apparently there seems to be a lack of respect for that."
Despite discouraging remarks from the Commander-in-Chief, Peng says that she is eager to pursue her next assignment. "I absolutely would do it again, and I definitely want to do more."
News Editor Brady Suttles recounted his experience at the event. "Coming to a Trump rally makes me want to not be Republican," said Suttles. "I had never been so proud to be an American when seeing my President step off the plane 20 yards from me, but when he opened his mouth to speak and immediately attacked the media, calling us 'fake news,' my spirits quickly subsided. The atmosphere of hate on the part of the supporters, fueled by President Trump, was not something that made me proud to be a Republican—and to an extent—proud to be American."
However, Suttles is not letting this experience deter him from his future aspirations in journalism. "It only ignited my passion further," said Suttles. "It made me want to report the truth more."
Opinion Editor Timothy Lewis also traveled with his fellow editors to Tupelo, the same town where Hyde-Smith made her controversial remarks about attending a public hanging. "It reinforced my pre-existing beliefs about the majority of Trump supporters," said Lewis. Like Suttles, Lewis did not take kindly to the harsh words about the media from the president. "Being called 'fake news' was a rather interesting and galvanizing experience. It sort of made me feel less opposed to the other news outlets."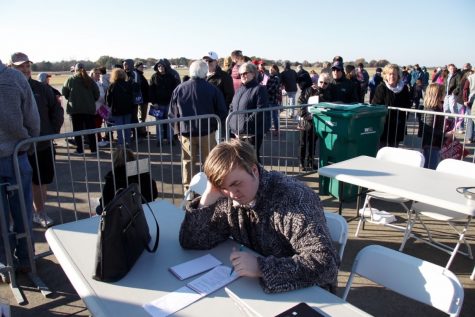 Nevertheless, Lewis stands unshaken from the President's words. "I had to suppress my natural disposition to say things back to old ladies. I think it was a good experience. It gives me a lot of ammo to use against my parents in arguments."
"It was, overall, a really cool experience, being able to go out there in a realistic experience," said Nguyen.

As The Vision's Photography Editor, Nguyen saw the rally as an ample opportunity to display her craft. "I always see pictures from the Women's March and rallies, and for some reason, political images that portray certain messages with deeper meanings always gets to me. It was really cool to get to be the one behind the camera and take those shots that I always see on social media."
Nguyen chose to see the "fake news" comments in a different light. "I had people come up to me like 'Oh my gosh, I heard you got called fake news!' and I was [sarcastically] like 'By the one and only!'"
"With all the recent news of journalist Jamal Khashoggi being murdered, there is a little bit of fear, but this doesn't turn me away from journalism. I would most definitely do this again."
Following the November 27 run-off elections, Hyde-Smith won by 7.8%, securing her seat in Congress.