Khytavia Fleming Really Loves Dogs (and MSMS)
Khytavia Fleming is a senior here at MSMS, who has a multitude of hidden joys that would surprise you, or maybe not since it's in the headline. Not only does she have some semi-hidden joys, but she also appreciates how much MSMS has prepared her for her future.
Fleming spoke to me about one of her favorite clubs she participates in here at MSMS. Specifically, Wags and Whiskers gives her the happiness she needs to survive the waves of MSMS.
"I love going to the Humane Society because it's like a mutual relationship where we get to like help the dogs and the dogs get to help us relieve stress. I think Wags and Whiskers is an important part of my being at MSMS because today I'm going to the Humane Society and I'm
She even goes on to describe how interacting with these animals gives her a sense of freedom. The Humane Society is sort of a home away from home for Khytavia. It supplies her with euphoric feelings that get her through many dark days at MSMS. Going home is also a way that helps Fleming relieve unwanted stresses.
"When I'm here for a long time I'm glad to go back home because I get to see my parents. I get to just like sit down and just talk to my mom and just have girl chat about life. I get to see my dad. He calls me head I guess because I was born first and he's like 'Hey head, how you doing?' and all that stuff. He works long hour shifts but like somehow even after working those long hours he still comes into my room and asks me how I'm doing."
Her parents are big supporters of hers and she cherishes every moment with them. As she tells me about her family she begins to talk about her brother and the smile that was already on her face had widened a little.
"I get to see my brother and stuff. We're like ten years apart and I just get to like ask him about how school's going and stuff and give him encouragement because he's like, 'I want to be just like you' and I'm just like, 'Oh okay.'"
Fleming laughed at her recounted interaction with her younger brother, and her smile grew even wider when she talked about her dog, Jipsey.
"I get to see my dog and sometimes I'm scared that she's going to forget me because I'm gone so much and I think that she's sad that I leave. I think she's starting to understand that I come for a little while then leaves for a long time and come back and she's just so excited that her tail is wagging, she's licking me in the face and everything."
Seeing her family is alright, but when it comes to her dog she just can't get enough of her. She tells me about what she does as soon as she gets home which, is not a common occurrence among individuals who have been on a particularly long trip home from a place they've been staying for a particularly long time.
"Most people when they go home they'd probably like go to the TV and sit down. Me, I go home I get my dog, and I go take her to use the restroom, like I put her first before I do anything else."
Khytavia Fleming is more than just a dog lover. She also takes pride in the preparation MSMS has given her in order for her to succeed in the future and she's absolutely positive about it.
"I guess—no I don't guess—I know that it's [MSMS] like helped me in various ways that I know that my old school could've like never helped me. It has helped me become more of an extrovert, and I've learned so much while being here. I've made new friends. I've become more active in certain things that I usually wouldn't have done at my old school. It's just like been a great experience."
Fleming had a lot more to say about how MSMS has helped her become a better student, learner and overall individual.
"Being at MSMS helps you become an adult faster. You don't have nobody fixing you food, you don't have nobody washing your clothes, you don't have nobody cleaning after you. You have to do all this stuff on your own. Like learn how to manage your money because your parents aren't with you 24/7. You have to learn time management skills and you have to get your work done, you don't have anyone to remind you to do this and that. You really just have to look out for yourself because you parents aren't around to do that so you're maturing while you're here."
Fleming has a strong will to do well here at MSMS and it shows in how she speaks about her experience here. She has gained a lot from coming to MSMS and she gained a community that she enjoys. In addition to Wags and Whiskers, Fleming is Fashion Board and Black Student Alliance.  
"Black Student Alliance, I think of it as like basically a place for like all the African Americans to kind of get together and like talk about our time here and things that are controversial in the world right now because most of us we've come from a majority all black school and like coming to MSMS is like reversed where its a majority of all white. We get to talk about how we're getting used to this and how we're enjoying things. BSA isn't just for black people. It's for other races and black people, and I think that's really great."
After she expressed her love for BSA, she quickly explained to me why it was her second favorite club.
"I think that's one of my favorite clubs after Wags and Whiskers, because dogs come first."
Hang on for a minute...we're trying to find some more stories you might like.
About the Contributors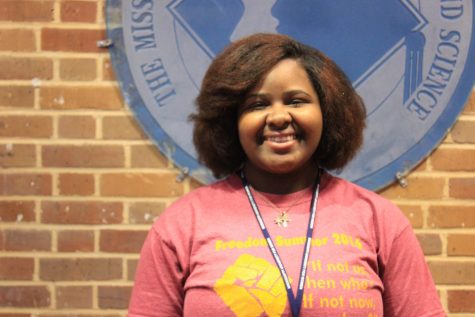 Jessikah Morton, Social Media Assistant
Jessikah Morton is a senior here at MSMS. She is a part of the social media section of The Vision. She is in BSA, Blue Diamondz, Spirit Squad, and she...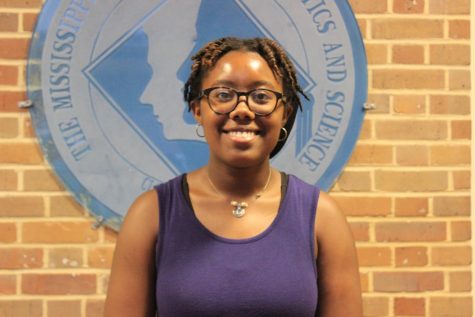 Kerrigan Clark, Assistant Web Design Editor
Kerrigan Clark is a senior who works as an assistant editor for web design and is one of the social media assistants here at The Vision. She enjoys reading...