Alumna Jenny Nguyen Continues to Conquer Science Research with Bunny Onesie
Jenny Nguyen, hailing from Biloxi, graduated from The Mississippi School for Mathematics and Science with the Class of 2017. She now attends the School of Engineering and Applied Sciences at the University of Pennsylvania where she studies Bioengineering with a minor in Hispanic Studies.
While at MSMS, Nguyen was involved in many activities outside of the classroom, including Student Government Association, and was an Emissary.
"I love tutoring and community service, so I spent a lot of my time tutoring for the Palmer Home, Mu Alpha Theta, and Physics Club," Nguyen said.
"Anyone who knows Jenny knows she's a hard worker, and because of her work ethic and her commitment to anything she does, Jenny definitely made an impact during her time at MSMS," said Calvin Hu, a close friend of Nguyen who also graduated in 2017.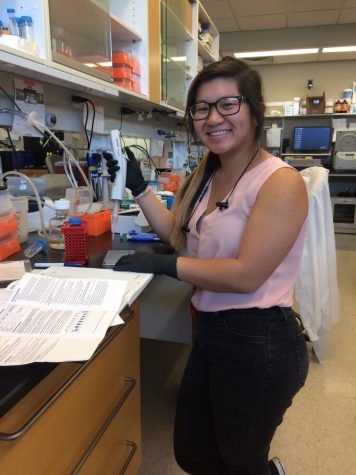 "In senior year, she had to balance Cal II and III, leading math tutorials, applying for college, and teaching at a nearby school," said Vivian Van, who was Nguyen's roommate during their senior year. "[She] is a really dedicated, strong-willed, and loyal friend."
While Nguyen heavily focused on STEM-related extracurricular activities, Van said that she enjoyed singing Spanish songs, cooking and working out.
Looking back on her time at MSMS, two of Nguyen's favorite memories come to mind: her bunny onesie and the trebuchet competition.
"During senior year, I liked wearing my bunny onesie around just for the heck of it. For some reason, [my] suitemates and I all started doing the running man. For what reason? We don't know, but I tripped while doing it, mind you in my bunny onesie. There's video evidence," Nguyen said.
"[And] during junior year, [my team] was at the trebuchet competition, and we snuck away to the bathroom during the awards ceremony because we didn't think we would win anything. In the middle of our bathroom break, all we heard was, 'MSMS Team 1 — The Pink Panthers win the award!' Given that we built the trebuchet over the course of a few days with random poles and insulating material from the engineering shop, we didn't think our little pink thing could take home anything."
To Nguyen, just about every MSMS faculty member influenced her — the list is endless. To name a few, Ms. Heintz and Mrs. Brown were her mother-figures, and Mr. Patel was her go-to for every class she had difficulty in. Mrs. Richardson shaped her just as she had Nguyen's writing, and Mrs. K "screamed the loudest" when she was accepted to her dream school. Dr. Vaughan and Mr. Funderburk were always patient with her, even during her "dumb moments."
While MSMS taught her important life lessons, there is one challenge she wasn't prepared for.
"I felt prepared in the sense that there is nothing academic that is too challenging. MSMS taught me that with a whole lot of tenacity, there isn't a hurdle that I am unable to overcome," Nguyen said. "I was not prepared, though, for how much I would miss the faculty and students of MSMS. It's difficult to have faculty that care for you both as a student and a person, but somehow, MSMS managed to do just that. I find myself missing the MSMS classrooms often.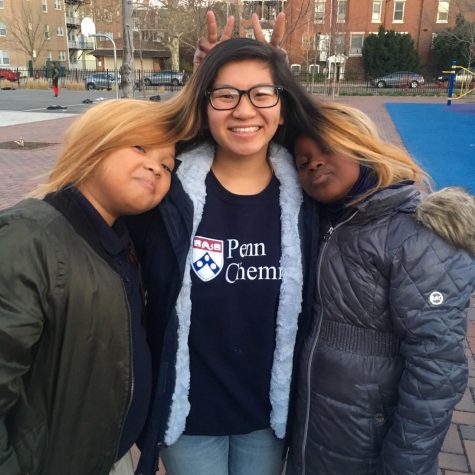 At UPenn, Nguyen is involved in Kite & Key Society, a service organization that conducts the campus tours. She leads some of the 80,000 visitors on a tour every week. Nguyen is also a mentor for students of West Philadelphia High School through a club called Community School Student Partnerships. Additionally, she mentors incoming freshmen for the School of Engineering and Applied Sciences.
"Because of the things she did at MSMS, I know Jenny is doing great things at UPenn," Hu said. "As a Chemical Engineer who has many Pre-Med Engineering friends, I can imagine what Jenny is going through in college. It does not look fun at all, but knowing Jenny, I'm sure she'll do great."
And to the current students of MSMS, Nguyen offers some advice:
"Put down your homework and enjoy the company. I often found myself lost in my work — I did not appreciate my peers and faculty enough. Grades matter, yes, but the experience that you get from MSMS is what you will remember twenty years from now and not the grade that you got on that foundations test.
"Also, if you are interested in undergraduate research or in a PhD, do get involved with the research program. The summer after junior year, I embarked on my first real research journey at Vanderbilt, where I built my foundation in the laboratory sciences. Today, I have worked in prestigious labs at both Vanderbilt University and Johns Hopkins University and presented at three national conferences. This would not have been possible if I had not started research the spring of my junior year. Get. Started. Early."