Mu Alpha Theta Hosts Math Competition for Elementary Students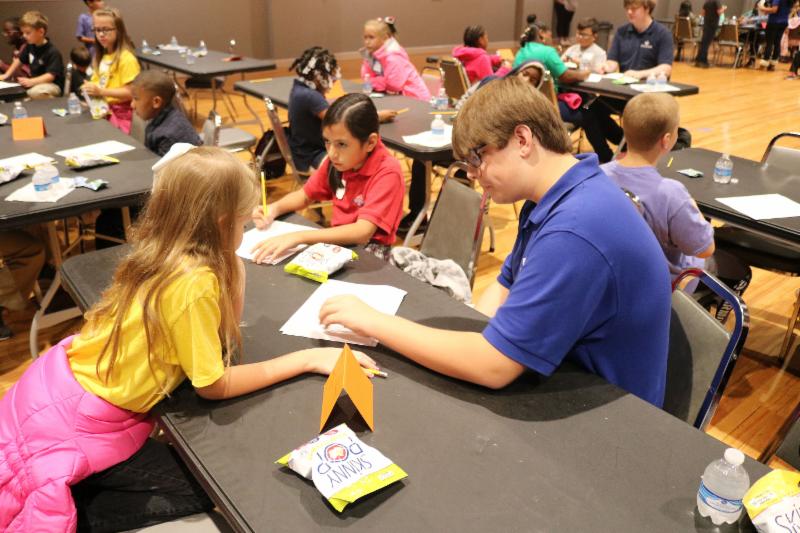 For the past two and a half months, members of MSMS's Mu Alpha Theta and the outreach class have been preparing Math Superstars, a math competition for about 200 2nd, 3rd, 4th and 5th graders from local schools. The finalists from each school were invited to the James T. Trotter Convention Center in Columbus, MS to compete in the final competition Thursday evening, October 25.
Four years ago, now alumna Michelle Li served as the Vice President for Outreach of Mu Alpha Theta, an honor society for students with an interest in mathematics. Lauren Zarandona, the club sponsor and mathematics instructor, discussed math outreach with Li. Zarandona used one of her past experiences as inspiration for a new project.
"So when I was in third grade in Florida, I did this thing called Math Superstars. I told Michelle about it, and we created our own version." she said. "That year, we had [about] fifty elementary students from maybe five schools."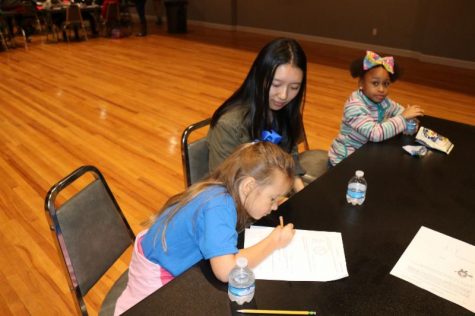 Math Superstars was created because Li felt like there needed to be a math program prior to middle school. While there may be some programs offered in middle school, most students have already decided whether or not they like math by then. Li and Zarandona wanted to capture imaginations earlier on — before this decision is made. Since then, Zarandona has worked diligently with Mu Alpha Theta to build this competition to not only be bigger but also to reach more students and more teachers.
Beginning in August, this year's President of Outreach, Liz Huynh, worked side by side with Zarandona to guarantee the success of this annual event.
"When schools sign up, we send them four weeks of problem sets. We write the problem sets together here, and kids do one per week. There are stars associated, so the kids who've earned the most stars would get to come [compete]," Zarandona explained. "Those top students come to compete with us. They get to work with kids from other schools. In Mississippi, often times, our schools are homogeneous, so if kids come in and only work with people from their schools, they're often working with people a lot like them. I mixed up the teams, so that you have kids from different schools working together. And it's such a cool merging of ideas."
Planning for Math Superstars is a long and complex process. There are multiple aspects that need to be double-checked, including the creation of the tests, filming of the solutions and development of the puzzles.
"We have to video solutions [to the problem sets]. After we were done with that, we started on making the final test for the contest," Huynh said. "It takes a lot of time because you have to review everything [and] make sure nothing's wrong. We divided into two teams, and during the few days leading up to the test, everyone had to stay in Mrs. Z's tutorials and like just prepare all the materials."
Throughout this process, Huynh had to delegate responsibilities among the outreach members. Many members, such as seniors Kelsey Hollingsworth and Natalie Long, dedicated much of their time to this project.
"My role, for the most part, was just getting things organized and helping Mrs. Z in any way that I can," Hollingsworth said. "I do little administrative tasks such as create puzzles. [I] created the matchstick puzzles for the kids to do at the event and videos that show solutions."
Similarly, Long focused on helping get together the test questions to send off to the younger students. She also helped construct little games for the kids to play afterward.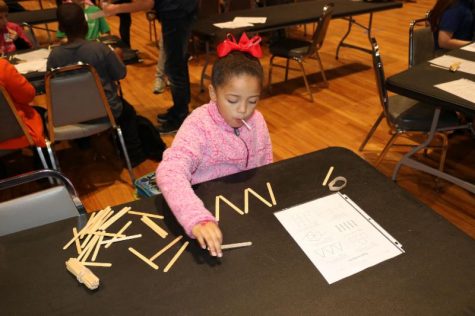 After the kids completed the puzzles at different centers, an awards ceremony was conducted. According to Zarandona, the process of determining winners has been different every year, and this year's system worked better. The top three individual scores by grade level from each school were averaged, and so the winners were placed by school in each grade level. This way, schools get individual honors, but individuals were not called out.
Hollingsworth, among several other students, assisted with the presentation of medals. She said, "I enjoyed giving out the medals at the ceremony because the kids were all smiling. They're all happy and excited that they're part of something."
Many of the students that came to participate in Math Superstars seemed to enjoy the experience. Between the elementary students themselves and the students from MSMS who helped, the overall feedback was positive.
The sons of Zarandona as well as Lauren Putnam, the Administrative Assistant of the Office of Academic Affairs at MSMS, both competed at the 3rd grade level in the competition.
"Both really enjoyed it. My son enjoyed particularly the matchstick puzzle, but he just loved doing the fun math. He likes doing fun puzzles. Mrs. Putnam's son talked about how much he liked working with kids not from his school on the different events," Zarandona said. "You remember in school, often times, you work with people who were not as motivated like you. And yesterday, those kids had this common thread that they wanted to be there doing math. So it's neat to get them at a young age."
Huynh said she could tell her group of kids enjoyed the activities because not only were they challenged but they were proud that they could solve it as well. Similarly, Long thinks the event turned out really well.
As a result of this project, interest in outreach has spiked among MSMS students. Zarandona had multiple students tell her about how excited they were to continue helping out with more outreach. There are several students now hoping to apply for Huynh's position to plan and lead outreach projects.
"Often times, Mu Alpha Theta and math honors – [they] look like math contests and all As and top of the class, but it doesn't have to look like that. You can love math and not necessarily make a 100 in calculus. And so, this is just sharing that passion with other people," said Zarandona.
Mu Alpha Theta is now in the process of planning future outreach projects.
About the Contributor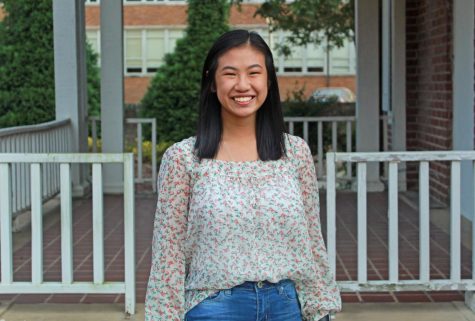 Gina Nguyen, Editor-in-Chief
Gina Nguyen, this year's Editor-in-Chief, is from d'Iberville, MS. Nguyen previously served as the Photography Editor. She is a member of the MSMS Graduating...