Students Volunteer at Country Pumpkins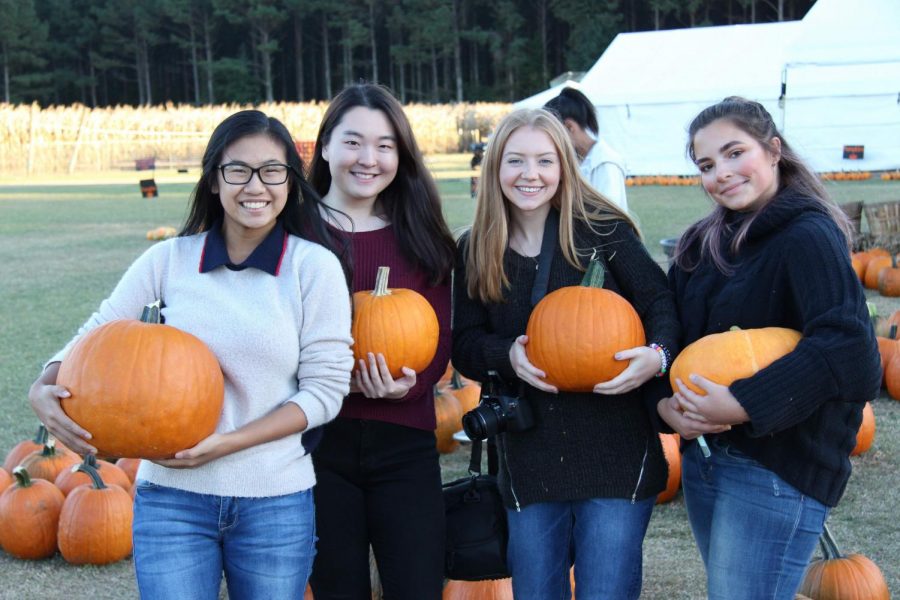 Last Thursday afternoon, October 18, a group of fifteen students volunteered at Pine Meadows Farm in Caledonia, MS.
Established in 1975, Pine Meadows Farm grows cotton, corn, pumpkins and many more farm products. Every year, owners Dwight and Jean Colson put on Country Pumpkins not only to provide those farm products but also to provide an opportunity for people to spend time at the farm.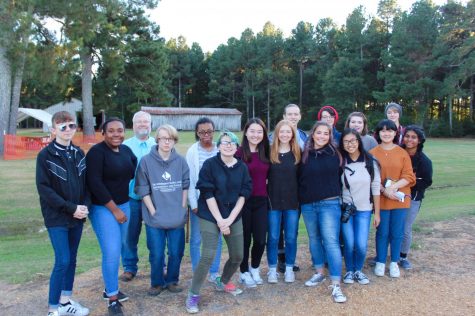 Gardening Club Co-Presidents Malorie Holloway and McKayla Roberts worked with their club sponsor, Dr. Odom, to schedule a time to visit and volunteer. Holloway was inspired by her experience on the farm last year when her sculpture class visited.
"We went there and got pumpkins and were able to carve them for sculpture. And I liked that idea, so I was like, 'McKayla, pumpkins – we can do that. That's plant-related and Halloween,'" Holloway said.
Upon arrival, students were led to a large trailer filled with hundreds of ears of corn and were shown how to peel back the husks of the corn. After an hour and a half of husking, over twenty buckets were filled with corn. As a token of gratitude, everyone was given the opportunity to select a pumpkin of his or her choice.
"The people are really nice. I was really scared that they weren't gonna be extremely accommodating, but they were. It's really clean and well-organized there and a really good place for people to be," Roberts said.
"I actually had a lot of fun husking corn, and it was really nice to be off campus volunteering for the community," Olivia Dosda said. "I would absolutely come back next year just to see the farm because it was so cute and I just like helping people."
Even though this event was planned for the club, the chance to volunteer and, frankly, to get off campus intrigued numerous students who are not in the club to join. Overall, the students really enjoyed this experience.
"It was a great way for MSMS students to kind of escape the stress of school and spend a fun evening in nature. It was a great way to bond and hang out with friends," Taylor Willis said.
"Country Pumpkins is a cool place, and if you have a little bit of money, it's really fun to go. And volunteering there is fun," Holloway said.
Holloway and Roberts are planning to schedule more volunteer opportunities within the club. Although there is no set plan yet, their ideas range from switching out plants at Plymouth Bluff to visiting a botanical garden in Jackson.
About the Contributors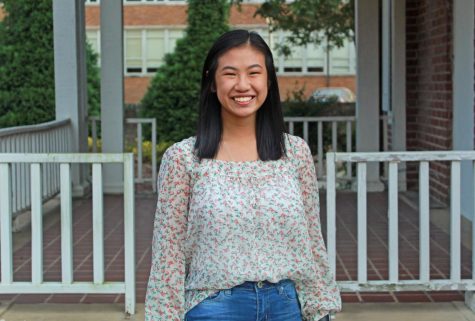 Gina Nguyen, Editor-in-Chief
Gina Nguyen, this year's Editor-in-Chief, is from d'Iberville, MS. Nguyen previously served as the Photography Editor. She is a member of the MSMS Graduating...