Blue Waves Dive Into Starkville Meet
The MSMS Blue Waves attended their third and final swim meet before qualifiers last Tuesday in Starkville.
"The meet went really well for the team," said junior swimmer Elijah Dosda. "We're ranking in more North State times and improving upon our work. I think we're doing pretty well."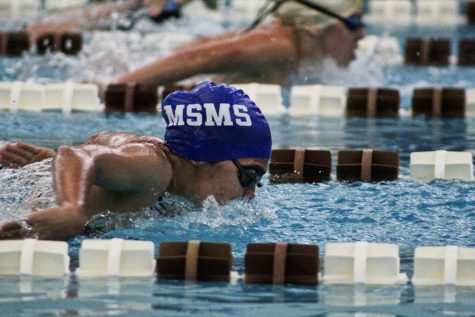 Although Dosda feels good about his performance going into the coveted North Half meet, he realizes there are mistakes that he needs fix before the big day. "I made the dumb mistake of scheduling my events and them turning out to be back-to-back-to-back without any rest in between. Considering that though, my relay segment times were really fast and I'm honestly surprised that I still went through and completed everything I signed up for."
"The meet went well for me personally," Cale Upton said. "I got two best times. I dropped around 3 seconds in the 200 freestyle and placed fourth. Then in the 100 breaststroke, I dropped a second and placed second."
Upton and Dosda weren't the only swimmers happy about the team's performance. Junior swimmer Samantha Broussard was also pleased with the team's talent in Starkville. "The boys finally got their relay together and did amazing for their first time swimming together! It was a shorter meet but we still did really well and had lots of fun," she said.
Broussard is proud of the accomplishments her team has achieved. "We've come a long way from the first meet and are working together to get ready for North State."
This was the final meet before the team travels to North State qualifiers. There, swimmers will compete for the best times. The four top swimmers from the North and four top swimmers from the South and four additional swimmers from both halves will face off to bring home the trophy for their home school. On top of individuals, each team will form a relay team, composed of four swimmers that compete as one.
"I'm very optimistic, really," Dosda said. "Us guys just got our fourth relay member and our North State competition will be the best versions of all of our races that we've been practicing all year."
The Blue Waves' next meet is in Cleveland at the North State meet. They will compete at Delta State University on October 20.