Local Artists Make Downtown Columbus Their Canvas
Columbus artists gathered downtown last Thursday, Sept. 27, to display their talents on the streets in the city's annual Downtown Columbus Art Walk. This event featured works by Columbus area residents as well as live music and various activities for the young and old.
"It was so much fun," said junior Cecile Roberts. "I'm really glad I went just to support the independent artists out there."
When asked if she liked the works on display, Roberts said, "I thought they were so creative and fun. I envy that I could never do that. MSMS students go to Main Street in Columbus, and they're really exposed. It has more enriched surroundings than our campus. It helps the students that are really rundown by work." Roberts said that she is definitely returning next year.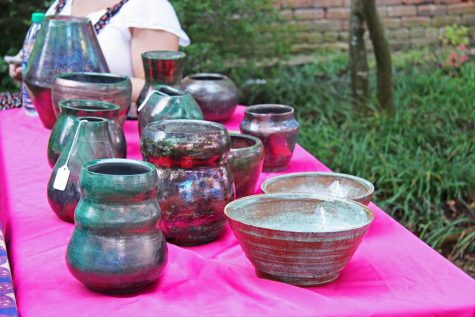 "It gathered a lot of the artists in the community together," said junior Reggie Zheng. "They shared their creations and gained inspiration from each other. I think it expands everyone's horizons. A lot of the abstract paintings were very inspiring. I like to go to these art walks to see all these inspirations."
It wasn't just arts and crafts that took the city by storm. The music scene in Columbus also came out to show their instrumental flair. Guitarists, violinists, and other freelance musicians played their strings out to the attendees.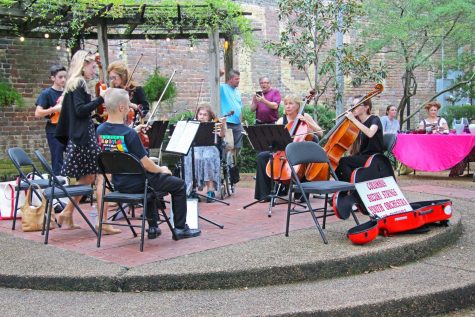 Standing at a table in Park Place Boutique and Salon with an abundance of knitted items, MSMS's own Alden Wiygul showcased her talent. This was Wiygul's second year selling her work. "I've been knitting for probably three or four years," said Wiygul. "It's very fun. I get to sell my stuff in a safe environment. My stepmom knows the owner, and two years ago when I was interested in doing this, she contacted her and set it up. Knitting is one of my favorite hobbies. It relaxes me when I'm really stressed, which it gets a lot at MSMS. My favorite thing to knit is hats because it's really easy but it's also really fun."
When asked on who taught her the skill, Wiygul replied with one word: "YouTube."
"I think it showed people what the people in Columbus and around Columbus are capable of," Zheng said. "I feel extremely inspired."