Brady Suttles Recalls His Path To National Merit Semifinalist
"I'm ambitious, driven, and sleepy."
That is how National Merit Scholarship Semifinalist Brady Suttles describes himself. Suttles is among the fifteen other MSMS students who are receiving this title, improving from twelve recipients last year.
Suttles recalls frantic cramming the night before the coveted PSAT, which all juniors take on October 10. "A lot of people came up to my room, and we were all just doing Khan Academy math together. The next morning, I got up, had breakfast, and I took the PSAT."
Suttles, like every student after an important exam, felt unsure of his results. "Afterwards, I felt okay about it, but I did not think I had attained National Merit status from my performance, but somehow I did."
Suttles is confident that his recent achievement will help in his collegiate adventures. "For in-state colleges like Ole Miss, I pretty much get a full ride through having Semifinalist Scholarship. For the out-of-state colleges I am looking into, it doesn't help as much, but it is still nice to have when it comes to applying for colleges. It's something you can put on your application."
The Semifinalist also shared his tips to the junior class, which is gearing up to take their PSAT and usher in a new group of Semifinalists. "Um, Khan Academy."
However, the online tutorial website wasn't the recipient's only piece of advice. "Talk to Mrs. Z. Talk to some of your math teachers that you're closer with so you get brushed up on some of the stuff you may have forgotten. A lot of the stuff that people miss is Pre-Algebra or Algebra that they haven't done in a couple of years, and maybe they know one way to do it, but it's not the quickest way to do it. In these tests, it's about knowing what is the best way to do it. If you get hung up on a question, skip it. This test is different from the ACT, so you most likely will have time to go back. Do not waste time."
If students are still looking for test-prep, Suttles instructs that they look no further than MSMS. "Join STEP Club! It's a really good resource because it's free tests that you can take and don't have to buy a whole book for. I really didn't study for the PSAT, and I don't recommend that."
"I'm very thankful that I came to MSMS," Suttles said. "We do PSAT back at my old school, but it's not very important. I don't know if we ever had a Merit Semifinalist. I'm very thankful that I was able to come here and take it for free and perform well enough to receive this status of Semifinalist. This year there are fifteen, and I'm proud to be one of them."
Hang on for a minute...we're trying to find some more stories you might like.
About the Writer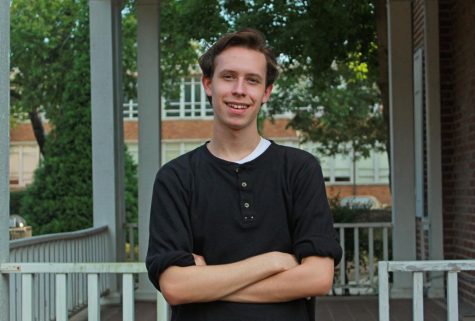 Davan Reece, Managing Editor
Davan Reece is a senior from Byram, Mississippi and this year's Managing Editor. As The Vision's managing editor, Reece is enabled to continue the endless...