Mr. Rick Smith: Ten Years of Smiles, Bow Ties and Bad Jokes
The face of Mr. Rick Smith, ex-Director for Student Affairs and ex-Director for Advancement, is probably one you take for granted at the Mississippi School for Math and Science. Timely, jovial and always entering a room chin-first, Mr. Smith is a landmark of hospitality and discipline, school and family. During the last ten years, you could likely find Mr. Smith—or Papa Rick, as he was known to most of the student body—in the same fashion as you would have during his last ten days: hollering at students in Hooper while sporting the iconic Raspberry Red polo or a peculiar bow tie.
Wednesday, September 6, 2018—the day Mr. Smith ended his service to MSMS. At his retirement reception, faculty, emissaries, close family members and refreshments filled up Hooper lobby. Mr. Smith stood upright and dapper in his blue long-sleeved button-up and complementary bow tie, grinning wildly as he was showered with appreciation and going-away presents, including a jenga set with commemorative quotes on each puzzle piece, a painting of MSMS (done by retired art teacher Ms. Angie Jones) and an inscribed garden bench.
After shepherding his inquisitive granddaughter up and down the Hooper staircase, Mr. Smith kindly met with me in the lounge to spend his last minutes at MSMS doing an interview. The conversation I had with him was our first and would likely be our last, but the manner with which Mr. Smith talks makes you feel as if you've at least been acquaintances for life. He flew off afterward to an anniversary celebration, and part of me thinks he'll be flitting from one busy thing to another, even in retirement.
Before coming to MSMS (his last truck stop), Mr. Smith spent his early days in a multitude of jobs at interesting locations, including an exceptional amount of time spent with the Choctaw Indians.
"I started teaching here in Columbus in 1977," he stated. "I taught for three years. Then I moved to Texas; I taught there for a year."
After teaching in Texas, Mr. Smith joined the Navy, which is the part he especially likes to tell incoming juniors.
"Everyone knows I was in the Navy," Mr. Smith said with a laugh, unimpressed with my scarce knowledge, which only shows how attentive I was during orientation week.
"While I was in the Navy, I was stationed in Florida and Memphis," Mr. Smith continued. "When I got out of the Navy, I worked as an assistant manager for a Gordon's Jewelry Store for a year, then went back to teaching again in Louisville. From there, I went to the Mississippi Band of Choctaw Indians in Philadelphia. I taught for five years there, and for three years I was the technology coordinator, and then I went to the tribal planning office and was there for ten years as a project manager."
Because a new chief was elected, all the jobs in the tribal office were then "terminated," and Mr. Smith went to Synergetics Diversified Computer Services, Inc. in Starkville to work as the marketing manager for a year.
"And then, the person [Mr. Charles Brown] who was becoming the Executive Director at MSMS, who had worked with me at the tribe, called me and said he had this advancement position. My first day was July 1, 2008. I was the advancement and admissions person for eight years, and for the last two years I've been in student affairs."
Mr. Smith called MSMS "heaven" for an educator because of the self-drive of MSMS students to pursue their learning. He contrasted the atmosphere here with those he observed in his prior years of teaching experience, during which he taught Senior English, Public Speaking, Journalism, Drama and Computer Research."
"Most days, if I had walked in and said, 'We're not gonna do anything today. Just put your head down,' they'd [the students] have been fine with that!" Mr. Smith said, throwing his hands up. "You know, if you came in here and said that, there'd be a revolt—because the kids are here to get as much as they can get, and so it's exciting and energizing to be around students like that here." At that point, Mr. Smith's tone was already heavily laced by nostalgia as he confessed, "That's what I'm gonna miss."
The part about this job at MSMS that he'll miss the most—which Mr. Smith told me is easily the best job he's ever had—are acceptance phone calls in the admissions office.
"My most favorite [part about my job] was when I would get to call the alternates when they were moving up. And I wouldn't let anyone do that but me! I always wanted to be the one that would call them and say, 'Hey, how's your day going?' And they would say, 'It's going pretty good.' And I would go, 'Well, I hope I'm about to make it better for you because I just want to let you know we got a position open up and you're the next alternate, if you want it.' And you'd get people going, 'Ah! Are you serious? I can't believe this!'"
"That's the fun part," Mr. Smith said.
On the other hand, the "toughest part" of his job is pretty obvious in retrospect.
"When I got into student affairs and had to deal with discipline—" Mr. Smith's airy tone grounded itself drastically— "you had to tell somebody: 'Because of the decisions you've made… you're not going to be able to continue as a student at MSMS.' And they're like, 'You're kicking me out?'"
To that, Mr. Smith uncanned the heartbreaking line we all unconsciously dread (and to hear it spoken to my face was sobering, to say the least): "I'm not kicking you out," he said. "Your actions have resulted in you not being able to stay."
I brought up the possibility that the discipline-enforcing part of his job might have caused students' opinions of him to sour, to which Mr. Smith essentially replied, "tough luck."
"In order for MSMS to be as beneficial as it can be to everybody, we have to all work together," Mr. Smith imparted. "We have to follow rules. We have to do what's expected. We have to do our part."
Even though Mr. Smith was stern with his dismissals, he acknowledged that he "loves every kid here," even students he's had to send home. He'll forever be christened "Papa Rick"—or that gregarious man who wore gaudy bow ties—in the minds of the alumni and current students.
Speaking of the infamous Rick Smith bow tie, Mr. Smith shared with me the origin story of his handmade bow tie company, Bows4Beaux. Outraged by the outlandish prices of bow ties being sold— "There is no reason bow ties should be fifty, sixty dollars"—Mr. Smith started his business as a challenge by his wife to produce a cheaper bow tie. Today, his bow ties are handmade and two-sided, their patterns are hand-drafted by Mr. Smith himself, and they sell for only $25.
In addition to the legacy he's left behind, Mr. Smith has also left imprints in the hearts and minds of his colleagues.
According to Mrs. Lauren Putnam, "Every time I was around [Mr. Smith] he was very optimistic, and I feel like that's a great asset anywhere."
"I thought Mr. Smith was a very enthusiastic spokesman for MSMS in a variety of capacities," said Dr. Heath Stevens, MSMS counselor. "It's rare that someone could be as enthusiastic about admissions and student affairs as Mr. Smith was."
Hang on for a minute...we're trying to find some more stories you might like.
About the Contributors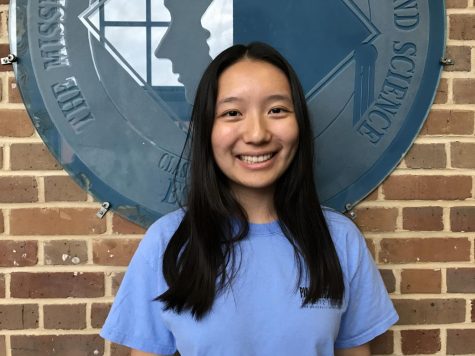 Victoria Gong, Managing Editor
Victoria Gong, a senior at MSMS hails from Vicksburg, MS, is the Managing Editor of The Vision. When Gong isn't organizing articles for The Vision, you...