Love is in the Air at MSMS
Love is in the air… again. As throngs of juniors swarm onto the campus of the Mississippi School for Mathematics and Science, eagerly assuming the empty desks and dorm rooms occupied by the ghosts of their dearly departed grand-seniors, their brains swamped with functions, polyatomic ions, essays—and hormones—the annual MSMS mating season tumbles into full swing. Although I'm classically unobservant, even I can tell from the copious amounts of licentious dancing and hand holding (and my comparative sample size of exactly two other MSMS classes) that this year's junior class is wild, in that there are several extreme outliers from the general nerdish student population.
The thrills of mating season definitely caught senior Mackenzie Umanzor unawares. She tells me in her tapestry-embellished room, "Imma be real with you, chief," and goes on to share that she was repulsed by the idea of dating someone younger than her until she swooped up her current boyfriend with the ease of a snap of a finger. For now, the future looks promising for the happy couple. "He's super cute and super nice," Umanzor divulges with a blissful and thoroughly disgusting grin. She's also learned an invaluable lesson—that love has no age, as long you're a teenager and the person you're dating doesn't look like a child.
Next, I wanted to get a look at the seasonal activities from the eyes of someone who's more attentive at processing the visuals he receives from his optical orbs, so I cornered Caleb Colley while he was gathering information for an article he's working on about Parents Day. He artfully described juniors in mating season as "frenzied," which I couldn't agree with more. It's actually the perfect adjective I was searching for to describe the hormonal-crazed mating season participants.
"You know, you just get away from home and now you're getting involved with people you've never met before. I heard four couples got together in less than a week," Colley said, squinting in ridicule. With his new neatly groomed beard and crisp plaid button-up, Colley looks like a mature, refined lumberjack, or a man who likes to engage in relationships with the speed of watching wine age.
"[My junior year] it took me a whole six months to develop any connection to anybody who I trusted to tell them anything, let alone be in a relationship," Colley shared. He condemns the juniors who are scarfing faster than they can swallow: "I feel like they're growing up, man, but they need to learn because they're gonna get hit hard."
Overall, I think unfrenzied junior Cale Upton had the most succinct comment to make regarding his comrades participating in coupling activities. He told me seriously, picking his words with the care that one would pay to lint on his favorite sweater, "I look around, and all I see is… ew."
Well phrased, Mr. Upton.
Hang on for a minute...we're trying to find some more stories you might like.
About the Contributor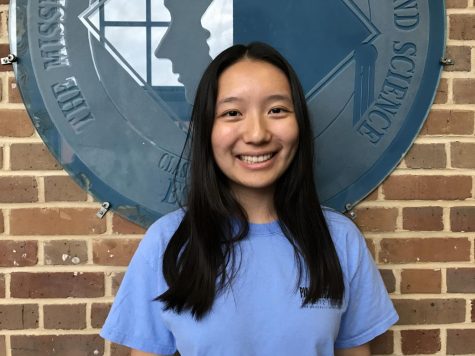 Victoria Gong, Managing Editor
Victoria Gong, a senior at MSMS hails from Vicksburg, MS, is the Managing Editor of The Vision. When Gong isn't organizing articles for The Vision, you...