Not Your Normal National Bee
On Sunday, April 8, Dev Jaiswal and Maria Kaltchenko hosted the first ever MSMS Spelling Bee.
Dev Jaiswal, a former national spelling bee competitor, organized the event and also added a special twist.
"Actually, Gary Nguyen has been pushing me to do it since the very beginning of the school year. I was like 'No dude. I don't want to do this,' but when I started thinking about it and did all the categories and lifelines and stuff, then I started thinking this would be a fun idea."
The categories and lifelines are things you would never see in a National Bee. First, the level of difficulty of the words varies tremendously; they were purposefully made unfair to keep the bee under an hour in length. You have normal categories such as Food, Math and Science and Humanities, but then things get crazy. The category "Hilarious" contained bizarre words meant to generate laughter such as "aa" and "akaakai." "Good Luck" had words that were so difficult only the best could spell them correctly. Finally, "Blitz" was a category of words not necessarily based on difficulty of spelling but rather, had to be spelled in a shorter time of 25 seconds rather than the allotted 45.
The lifelines included being able to ask for a new word, more time to spell, the ability to misspell one letter and the ability to ask someone who has been eliminated to spell your word for you. Each lifeline had various pros and cons; for example, requesting a new word could result in an even harder word to spell. Every contestant was able to use two of the four available lifelines, though some had no trouble spelling without them.
Jaiswal may have organized the event, but he couldn't have done it without his co-host, Kaltchenko. "In 2014, Maria placed 11th in the nation in the National Spelling Bee, so she and I, since we met here [at MSMS], kind of bonded over our mutual National Spelling Bee experiences."
Kaltchenko also had her own words to share. "We thought that recreating a miniature, more jovial version of this at our school would make for a lot of entertainment and maybe some learning."
For the competition to have taken place on the Sunday afternoon following prom, there was a decent-sized turnout. The first round was completed in about twenty minutes with all but five people participating. The winners, Hamilton Wan, Victoria Gong and Kelsey Hollingsworth, received packages of ramen. First place winner Wan also received an autographed photo of Jaiswal as the "Iridocyclitis kid" with a personalized note. Of course the photo was a joke as Jaiswal is constantly perplexed by the fame surrounding his pronunciation of a spelling bee word.
Contestant and MSMS senior, Elise Cook, loved participating in the spelling bee.
"It was chaos in its best form, and there was no pressure or judging from other contestants if we missed words. I'm kind of sad I didn't win, but it was great. Hopefully they'll repeat it next year."
Jaiswal commented on the overall success of the spelling bee.  
"I think it was like 17 people which was perfect in my opinion. Honestly, I feel like people had a lot more fun than I thought they would. People were also a lot more excited than I thought they would be. It made me really happy that the participants had a good time."
The excitement was definitely there as a second round was demanded with full participation this time. Because of how much fun everyone had, Jaiswal and Kaltchenko are considering hosting another spelling bee during their senior year.
Kaltchenko's comment proves this. "Students and pronouncers alike enjoyed themselves greatly, and it was a wonderful bonding experience. Thus, hopefully this will become somewhat of an MSMS tradition, at least in the foreseeable future."
If you ever want to host something similar at MSMS, talk to a member of the Reslife Staff. Mr. Thomas Robinson, who helped Jaiswal and Kaltchenko host the bee, let the participants know that we were always welcome to come to him with our own fun ideas.
"MSMS Reslife are employed because of the MSMS student population. Our duties and responsibilities include presenting activities or programs to the student population. To ensure the MSMS student population receive the greatest satisfaction from activities or programs, I perceive that the MSMS Reslife staff is more than willing to work with the MSMS student population. If a MSMS student has an idea for an activity or program, present the proposal to a Reslife staff member in a timely manner. The MSMS student should also express a desired support for the activity or program from the Reslife staff member."
Hang on for a minute...we're trying to find some more stories you might like.
About the Writer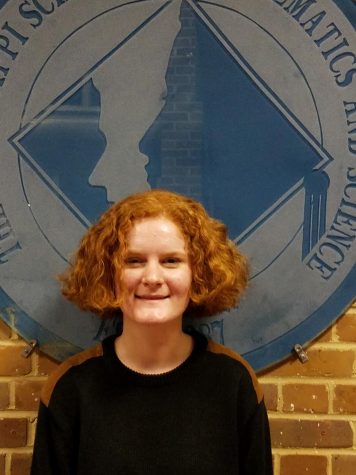 Sage Schaumburg, Entertainment Editor
Hey guys! My name is Sage Schaumburg, and I'm a current Senior at MSMS. My official unofficial job is Poll Creator (because I love polls), but my official...