MSMS Students Dance the Night Away at Prom
A flurry of dazzling skirts and sharp suit coats graced the Lion Hills Center on this past Saturday night. Under the theme "Our Symphony," the 2018 prom was supported by the junior class sponsors: Mr. Kishan Patel, Dr. Kayla Hester and Ms. Angie Jones, who ensured prom tickets were made available to everyone, at the price of $20 for singles and $35 for couples. Junior class officers worked tirelessly to set up decorations—tall glass vases filled with coils of sheet music and old trumpet bodies as centerpieces for round tables covered by black and white tablecloths reminiscent of piano keys.
"The decorations were one thing that really stuck out to me," said junior Taniya Bland. "I helped Sam with the decorations, and we spent long, countless hours making them. Sam worked really hard."
Junior class president Samantha (or Sam) Anderson confirmed her hard work: "I was really glad to see how well it was put together and really grateful for all the friends who helped me. I'm happy everything turned out okay and everyone had a great time."
The dance itself, lasting from 7:00 to 11:00 p.m. was "wild," according to Taniya. Prom-goers could effortlessly alternate between the adrenalized dance floor and the seating area, where they could rest their tired feet or peruse the long white tables filled snacks from powder sugar-embellished desserts to finely-garnished hors d'oeuvres.
The atmosphere resembled that of a classy gala or classical concert. "Everyone looked beautiful," commented Kiera (Keke) Monroe, a junior. Everywhere you turned you noticed the flying tails of a dress or the exotic flash of someone's makeup in the strobe light. Dr. Heath Stevens, an MSMS counselor, stood at attention for the entire four hours with his brilliant camera. Keke continued, "I loved the energy from everyone."
"This year, I noticed everybody went all out," said senior Kayci Kimmons. "There were so many head turners, and we just all came out and had fun together. I feel like a lot of people were not really traditional with their styles. There were so many unique dresses and suits." She added, "The suits, especially, were nice and not patterned."
The memories of the magnificent Saturday night are sure to remain in both juniors and seniors' heads for a long time. "Prom was a really exciting and educating experience," expressed junior Lori Feng. "It was really heartwarming to see everyone dancing together, having a great time and enjoying each other's lively company."
Student Government Association president Gary Nguyen echoed Lori's feelings: "Prom was a lot of fun, but I couldn't help feeling a little nostalgic. I was never really much into formal dances, but after my seniors dragged me along with them to my junior prom, I started to feel a lot more comfortable on dancing along with everyone without feeling a little insecure about my lack of cool dance moves. This year's prom brought back lots of memories and helped make new ones. Spending time with close friends (as well as having an awesome date) made the night all worthwhile."
Junior Peter Nguyen viewed prom as a welcomed distraction from the regular rigors of homework-packed MSMS weekends: "Prom was a nice, relaxing escape from the MasteringChemistry, position papers, and essays."
This year, as the dance reached its peak, the 2018 Prom Queen, King, Prince, and Princess were crowned. Mr. Rick Smith announced the names of Mariat Thankachan as queen, David Thaggard and king, Dev Jaiswal as prince and Madison Wypyski as princess in dramatic inflection.
Madison commented modestly that she was "really excited" about receiving another crown (she was also elected Winter Formal princess). "It was nice," she continued, "and the music was fantastic. Overall, it was an amazing first prom experience and will be hard to beat."
The end of prom brought mixed feelings. This was the last formal dance the current MSMS junior and senior classes would share, and a "senior walk" took place to commemorate the event.
"The senior walk was bittersweet," Lori indicated. "It was kind of sad when I realized this was the last school dance we would have with our seniors."
Nevertheless, the junior class looks forward to the end of next year, when they can destress and get to better know and begin to say goodbye to their new juniors.
Hang on for a minute...we're trying to find some more stories you might like.
About the Contributors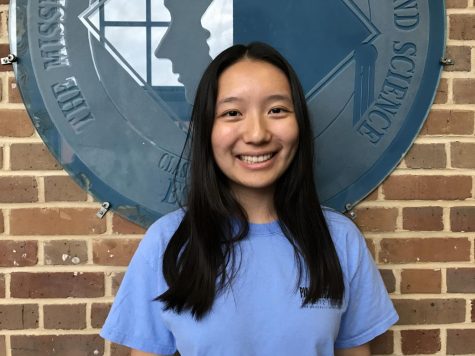 Victoria Gong, Managing Editor
Victoria Gong, a senior at MSMS hails from Vicksburg, MS, is the Managing Editor of The Vision. When Gong isn't organizing articles for The Vision, you...