Blu Diamondz Host Two Easter Eggs Hunts in One Week
MSMS' girls step team, Blu Diamondz, had a full week with hosting Easter egg hunts for the Boys and Girls Club and West Lowndes Elementary School.
Senior Ta'Kiya Moore, Blu Diamondz's president, commented on how much preparation went into making the two events happen.
"A lot of time and energy were invested to make the Easter Egg Hunts happen, such as making numerous trips to Walmart to purchase eggs and candy, staying up late to put the eggs together and rounding enough members of Blu Diamondz to lend a hand," Moore said.
On Monday, March 26, ten Blu Diamondz members showed up at The Boys and Girls Club at approximately 4 p.m. to hide eggs for the children inside.
While walking by the classroom, there was excitement on all of the students' faces. After the girls finished setting up, the students of the Boys and Girls Club lined up on the wall outside with their bags. They were all anxiously waiting for the word "Go!"
"This event gave the kids an opportunity to work together in groups to learn how to have good sportsmanship. This also helped them to learn that there are all of us working together on one accord for building better lives, building better friendships and building better relationships with mentors," Nicki Sykes, Youth Development Professional, said.
Her students expressed that they "really had fun," and that they hope Blu Diamondz would come back next year.
Even the members of Blu Diamondz expressed how they thoroughly enjoyed themselves. Junior Sophia Garcia even said how this event was a significant to the beginning of her week.
"I've never seen that many kids so excited to hunt eggs. It was super cute, yet terrifying to see them running toward you once they were free to start hunting. I believe it was a good way to start the week and was 'egg-xactly' what I needed to release some stress," Garcia said.
On Tuesday, March 27, three Blu Diamondz members headed to West Lowndes Elementary. As they walked down the halls, the members were eager and ready to get the students. Senior Tija Johnson, Blu Diamondz's treasurer, read to the class prior to the Easter activities.
"The kids were excited! I read two books to them and asked questions along the way to keep them engaged. After we were done, I helped pass out books and high-fived the kids," Johnson said.
After the reading was concluded, the members headed outside to the playground to prepare for the hunt. Though the space was not huge, the Diamondz managed to hide lots of eggs.
Johnson added, "We had to hunt by classes, so it was tiring hiding eggs every 20 minutes. The kids' excitement was worth it though. The teachers said that no one thinks of their children, so it meant it a lot. I was very happy we could do that for them."
After hosting two Easter egg hunts in one week, the Blu Diamondz said they felt very good for helping out and impacting over 200 students. The senior officers hope that the juniors will continue to keep these community service activities going next year.
Hang on for a minute...we're trying to find some more stories you might like.
About the Writer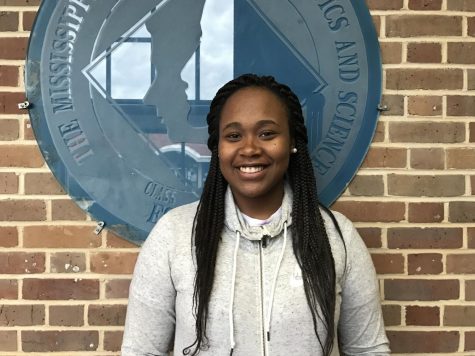 Aurelia Caine, Sports Editor
Hello everyone! My name is Aurelia Caine, some may know me by Scooby, and I'm the Sports Editor of The Vision. I enjoy playing multiple sports and hanging...