Dr. Elizabeth Morgan: An Educational Journey
Establishing herself as a mainstay at MSMS, Dr. Elizabeth Morgan instructs students in a plethora of chemistry courses, ranging from AP Chemistry to Physical Chemistry. She is also the sponsor of a wide variety of clubs and is very involved within the school.
"I sponsor the MSMS National Science Bowl teams, and I co-sponsor the Chem Club with Mrs. Truitt. I also coordinate the MSMS-MSU research program during the school year and work with professors, primarily at Delta State and Ole Miss, to get our students involved in summer research, too," Morgan said.  
Originally attending McComb High School before moving on to MSMS, Dr. Morgan has a colorful history in her education.
She first attended the New College of Florida before transferring to Ole Miss to acquire a B.S. in Chemistry with Honors. During this time, Dr. Morgan was admitted into the Mississippi Teacher Corps, which is a program to move non-traditional teachers into critical shortage areas.  In this program, Dr. Morgan began teaching at West Tallahatchie High School. "My time in Teacher Corps was good. I spent two years ('99-'00 and '00-'01) at West Tallahatchie High School, where I taught mathematics and physical science. I still keep in touch with some of my students from there," Dr. Morgan stated.   
Following this brief stint, she attended the University of Missouri to pursue a Ph.D. in Analytical Chemistry.
As a teacher of high school for over thirteen years and also having been a teaching assistant in college for five more years, Dr. Morgan has experience and the knowledge to truly find her home at MSMS. This is evident in how her very own students view her.
"I think Dr. Morgan is an incredible and compassionate teacher. Although her class may seem brutal at first, it just requires some effort and communication. Dr. Morgan is an accomplished chemist and knows what she is talking about, and thus, knows how to simplify concepts in multiple and understandable ways, which is something I deeply admire about her," Stephanie Dauber, MSMS senior, stated.
"Dr. Morgan is a phenomenal teacher!  You can tell that she's just so passionate about teaching and her love for chemistry is obvious. Just talking to her alone will be an enriching experience as she is so energetic and compassionate. While her class was very rigorous and time-consuming, she was able to make the experience more entertaining with her witty humor and interesting stories. Just her presence alone made AP Chemistry a class though its difficulty was still present. She just a great lady to learn from and talk to. Hands down, one of the best teachers that I have ever had," Reyhan Grims, MSMS senior, stated.      
In her time at MSMS, Dr. Morgan has enjoyed the many festivities and traditions that are rich at MSMS, and she believes that it is extremely interesting to view the evolution of MSMS from her time here to the present day. "It's fun to see what sorts of activities and traditions are still around since I was a student. I love going to the Ceremony of Lights, and graduation is always a good, nostalgic time," Dr. Morgan stated.
Dr. Morgan envisions a future that will be full of both school-related and personal goals and experiences. Dr. Morgan plans to continue many of her activities that she participated in during her free time such as yoga, playing with her dog, baking, and traveling. In her traveling experience, she has visited thirty-four states, Thailand which was sponsored by the National Science Foundation, and many other locations. She plans to eventually visit all of the states.
Dr. Morgan also believes that her future will continue to be with MSMS as she continues on with her teaching career. "I'll be at MSMS for the foreseeable future. We moved from Arizona so that I could teach at MSMS. I know what an impact MSMS had on me as a student and as a person, and the teachers I had at MSMS were the best, most knowledgeable, caring, and hardest working anywhere I've ever been, as a student or as a faculty member. I hope that I'm the same caliber teacher that I was so fortunate to have had, and that I'm able to open students up to the same sorts of experiences and opportunities that were laid before me," Dr. Morgan stated.
Hang on for a minute...we're trying to find some more stories you might like.
About the Contributor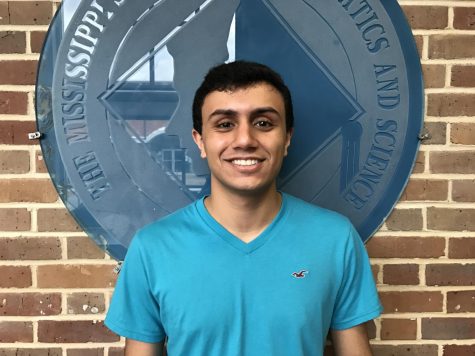 Yousef Abu-Salah, Co-Editor-in-Chief
My name is Yousef Abu-Salah, and I'm Co-Editor-in-Chief of The Vision. Aside from writing and editing articles, I really enjoy programming, exploring neuroscience concepts, playing soccer, and managing my other clubs throughout MSMS. I hope to major in computer science and specialize in virtual reality technology development because that stuff is just plain cool. You'll probably see me in Fant Library, either spouting some nationalistic dialogue or looking at interesting YouTube videos. I sincerely hope you like the content we have here on The Vision, and if you don't, just don't let me know. Ignorance is bliss after all;)