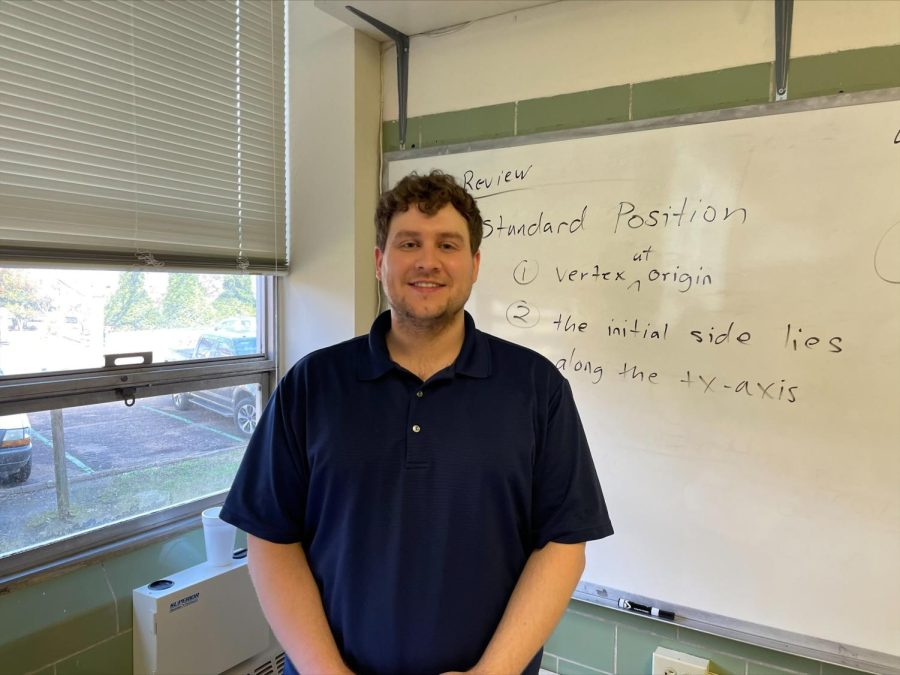 Christina Zhang
This year, the MSMS math department welcomed Spencer Hall as a new faculty member. Hall recently graduated from his master's program at Mississippi State University and came to MSMS to gain new insight and experience teaching gifted students.
Last semester, Hall taught Foundations and Math Modeling. Currently, he teaches Trigonometry, Linear Algebra and Astronomy.
"When I was younger, I was really interested in space, and of course I wanted to be an astronaut like a lot of kids," Hall said. "When I went to college, I majored in aerospace engineering for three years before I decided I was more interested in the theoretical side of things. That's when I switched to majoring in physics and math."
Hall grew up in Falkner, Miss. and attended Falkner High School, graduating with only 30 people in his class. In high school, he participated in math and science competitions that sparked his love for advanced math; later in college, Hall participated in a rocket-modeling team.
"I was a member of something called Rocket Team, so they built model rockets as part of a competition that NASA did. That was a lot of fun. I made a lot of friends there," Hall said. "It was very cool, very interesting, and I think that helped me relate the stuff I was learning in the classroom to real world stuff."
After acquiring his masters degree in physics, Hall decided to pursue a Ph.D. At this point, however, he was looking for a new challenge outside of academia and felt that MSMS could help him attain that.
"I was working on my Ph.D. for a while, and honestly I got tired. I needed a break for a little while. I still wanted to [get my Ph.D.], but I really wanted to get a job, steady income and stuff like that. This just happened to show up. I was like, 'I would really love working there.' It was close to where I already live, so I didn't have to move," Hall said.
Nicolas Neal, a junior in Hall's Foundations class, said he appreciates Hall's distinctive teaching and his ability to foster a healthy bond with his students.
"I enjoy Mr. Hall's teaching more than I enjoy any other teacher's, comparatively. I mean to say that I think he is down-to-earth. I enjoy that from him. He doesn't feel superior to me, and he doesn't feel like an instructor; he feels like a teacher and someone I can be friends with. I say 'good morning' to him because I like him not only as a teacher but as a person, so I nominated him for the teacher of the year award," Neal said.
Nora Courtney, another junior in Hall's Foundations class, said the effort Hall puts in to maintain a positive learning environment is highly admirable.
"I really like Mr. Hall as my Foundations teacher, because from my past schools my math teachers have not really been great. I had to teach myself most of the material, but Mr. Hall actually cares and makes sure that we understand it. He goes out of his way if we don't understand something in class, he encourages us to come to his office hours and he hosts additional study halls and tutorials. He is very caring and genuine as a person, so I like him both as a person and a teacher," Courtney said.
Upon researching the school's acclaimed faculty, Hall took the proactive decision to join this community to better himself and his students.
"The main thing that attracted me [to MSMS] was, of course, the students – working with more gifted and motivated students – working with some amazing faculty. I read up about the school before and the awards the faculty have gotten," Hall said. "A lot of them are leaders in their field and leaders of professional organizations. That was really cool. Being able to be a part of that community that values that kind of stuff was my main interest in coming here."
Hall worked as a graduate assistant in graduate school, and it was there that he was able to teach labs in the classroom. From there, he taught at other academic institutions, including Starkville High School and East Mississippi Community College. It was also during this time that he realized he loved teaching as much as the subjects he taught.
"I had tutored a little bit in undergrad, but just friends and stuff. I just realized that I really enjoy physics and math, and I love it so much. I like learning about it; I like explaining it; I just like talking about it," Hall said. "It was also fun when I started teaching labs and helping people understand how to do an experiment, where their mistake was or getting data. I realized that it was rewarding to help other people get through these classes."
If Hall was not teaching, he said he would love to indulge in other career paths he is interested in.
"If I wasn't teaching math, I might be teaching physics. I also have thought about working at a university or a private business," Hall said. "My research was in quantum computing, so places like Microsoft, Intel and Google have areas in their company where they're working on stuff like that. If I'm being honest, I've also thought about if I ever don't want to do this, I would love to program video games. I love video games. It would be fun to do."
Like many students at MSMS, Hall's interests outside the classroom are very personable.
"I really do enjoy watching movies in my free time. I like sci-fi and horror, I like watching older movies and foreign films. I do like playing video games, obviously. I do enjoy reading. I haven't had a lot of time to read in a long time, but I'm starting now that I have a steady job. I go on a walk sometimes, around the track or around Starkville," Hall said.
Hall said that his adjustment to teaching at MSMS was smooth.
"At MSMS, the only challenge I've had to overcome is getting adjusted to a new work environment," Hall said, "Learning some rules and how things are done and getting acclimated to the environment. In my career, I think I've been luckier than most. I've had a supportive family, and like a lot of students here, I didn't struggle with a lot of courses."