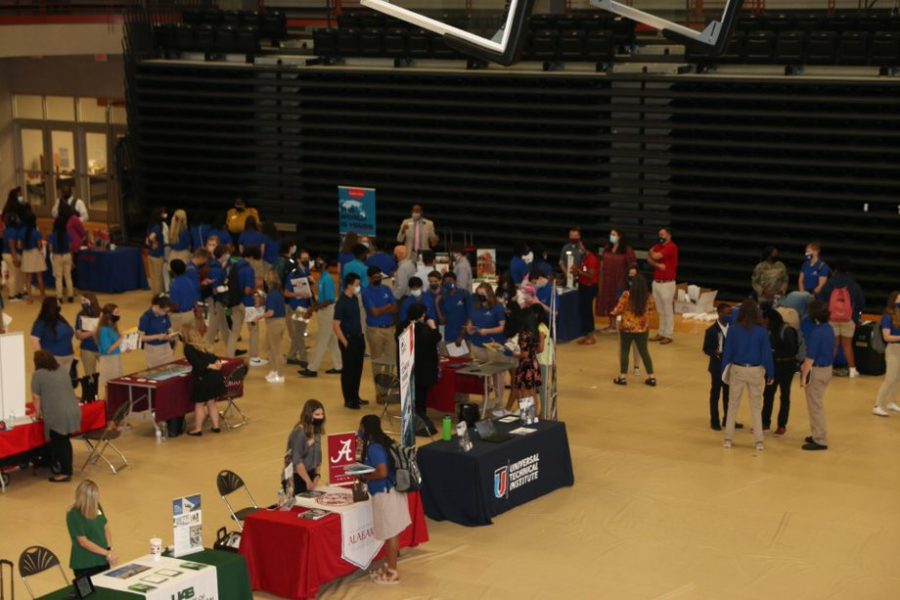 Courtesy of Dr. Heath Stevens
As MSMS students enter their final years of high school, a universal goal for them is continuing their education at an institution of higher learning. Because of this common goal, the school recently hosted College View, an event that allowed students to visit the colleges' booths, expand their lists of schools to apply to and come in contact with a wider array of institutions that could best meet their desires. Students also had a chance to see what majors, financial aid and scholarships the colleges offered. 
Some colleges in attendance were Mississippi State University, Tulane University, the University of Mississippi, Harvard University and the University of Alabama. With many other colleges present, some students say it helped them in their search for colleges to attend.
Junior Nathan George said the event helped them become acclimated with what different colleges could provide.
"I really liked getting involved with the college experience because I never had colleges telling me to come visit and what offers they have. I really got [to view] a wide span of colleges, even if I do not want to go to any of them," George said. "Every college had their own niche [and] they expanded my view on how broad college education can be." 
Students also said College View showed them a more diverse selection of colleges that exist outside of those they had in mind and changed their perspectives on what they look for in colleges. 
Junior Shonice Oswalt said the experience showed her a variety of colleges beyond those she already knew of. 
"College View opened my eyes to different colleges that I had never heard of because I always wanted to go to a prestigious university," Oswalt said. "Seeing other colleges there, it showed me that I don't have to go to a prestigious university to get a good education and a good job later in life." 
Senior Jaeden Wesley said she thought the event could have been better. Due to the limited number of colleges present, she said, the representation of majors for different interests and passions wasn't strong.
"I've heard from my grandseniors [Class of 2021] that they usually have a lot more colleges come and have representatives, and that this year, it was less than half of [the people] that usually come," Wesley said. "It was a little disappointing because of that."
Other students said they initially felt hindered by the lack of variety in the fields the colleges offered. 
"Most of the colleges didn't have the major I wanted," junior Diamond Martin said. "But I still found a lot of different majors that I could explore other than the one I chose."  
College View was intended to aid students in their preparation for their future endeavors. While some students said that the event had its limitations, most said it was an opportunity for them to explore what they want to study and see what schools cater to their future endeavors.