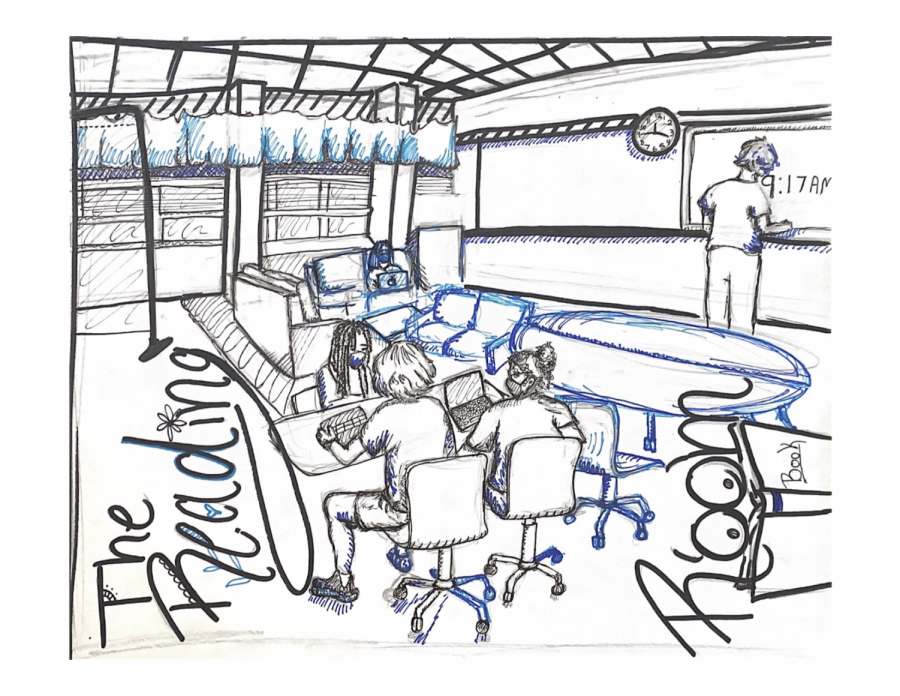 Taylor Wypyski
The Hooper Academic Building is a familiar location amongst MSMS students. While housing all mathematics, science and world language classes, Hooper contains more than academic classrooms. The building again features the Hooper Reading Room, which was formerly known as the student lounge, after its temporary closure last school year due to the COVID-19 pandemic. In the eyes of some MSMS students, the reopening of the reading room has offered up a new place for people to focus on their studies.
MSMS administrators are allowing up to 10 students in the room at once in order to maintain social distancing and adhere to COVID-19 safety protocols.
Senior Zaria Cooper said the reading room opens the potential for students to have more places to study and socialize with their peers.
"I feel like the reading room being open this year will allow students to come together in a more chill space to study and make new friends — especially with both classes finally being on campus," she said.
Cooper also said that the reading room's closing last year negatively impacted the students, as their spaces to focus on their academics were lessened.
"It definitely forced us to just stay in the dorms or go to the library," Cooper said. "But now that the reading rooms are open, it gives a multitude of areas to be in to make stronger connections with people, increase our grades overall and let us feel the MSMS community."
Junior Sephora Poteau said the reading room has a profound impact on students because of its productive atmosphere in combination with the mindsets that students already have.
"It's been a positive influence for students because the study culture is now everywhere," Poteau said. "They always have in their heads 'You have an assignment, you have to do it.' They're committed to studying."
While Cooper said she feels as if the room could potentially be a distraction, she still believes that the disruptions in the room are limited.
"[The students] can get noisy sometimes or play too much and teachers might have class, but for those situations, most people know to either leave the room, go back to the dorms or just leave Hooper in general and go to the library," Cooper said.
Poteau said he has concerns over students abiding by the rules that were established in the lab as precautions for the ongoing pandemic.
"There are people who blatantly ignore the signs that say only 10 people are allowed," Poteau said. "I've seen about 15 people inside the room."
Overall, many students said the reading room opens new studying and socializing opportunities. The closing of the reading room last school year may have been perceived as limiting the studying areas for students, but some say its return provides them with more opportunities to focus on their academics, while also allowing them to interact with other students more.