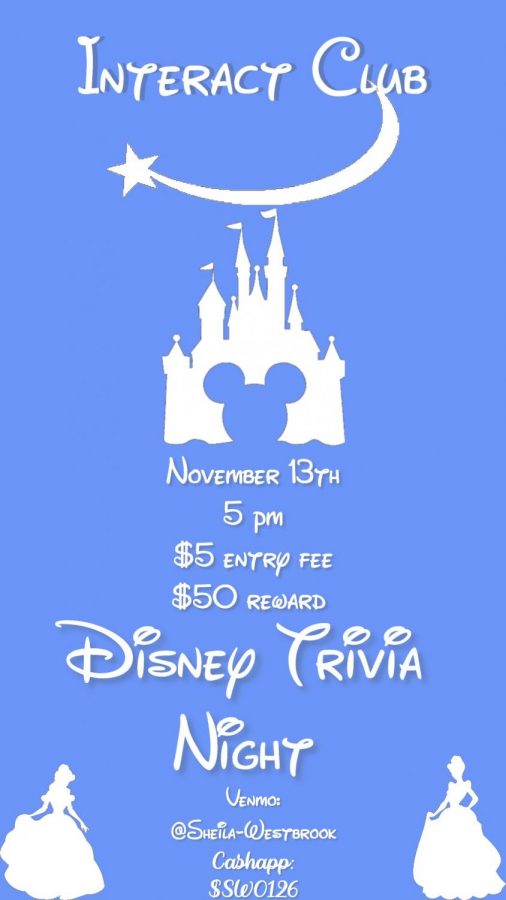 Courtesy of Colin Gordy
From COVID-19 to the recent presidential election, everybody has been looking for ways to get their minds off of everything 2020. Interact Club showed this on Friday, Nov.  13 during Disney Trivia Night. This event gave MSMS students a chance to catch up and have fun, and all the proceeds will go towards buying lavender seeds to help increase the bee population in Mississippi. With a $50 reward on the line, students showed up to get their Disney on.
As students slowly started showing up to the trivia night, there were many scares going through the head of Interact Club President, Gracie Rowland.
"A lot of people signed up at the last minute so I was concerned for a while," Rowland said, "but we ended up going above our goal. I'm so proud of my classmates for wanting to help such a noble cause."
While Rowland was worried about the participants, Interact Club secretary Carolena Graham worried more about the pandemic's effects on the event.
"I really feel like the COVID-19 pandemic has taken the fun out of a lot of things," Graham said. "I really am satisfied with the results of the event."
In addition to the people behind the curtain thinking that the event was an overwhelming success, students and non-MSMS attendees thought that the event was fun and enjoyable. 
"I really felt like this was a great way for MSMS kids to get together," junior Madison Flowers said. "This was amazing for everyone seeing as how 2020 has not been the best for anyone. This really just was a great event and I am so glad to be a part of Interact Club."
As the event was wrapped up, junior Madelyn Phillips was announced as the winner of the $50 prize.
Both Graham and Rowland were satisfied and moreover, pleased with the results of the event.
"I was incredibly satisfied with the results of the event," Rowland said. "I know that Interact Club enjoyed planning it. Although it takes some instruction on how to grow [lavender] in Mississippi, helping such an integral part of our environmental community is so worth it."