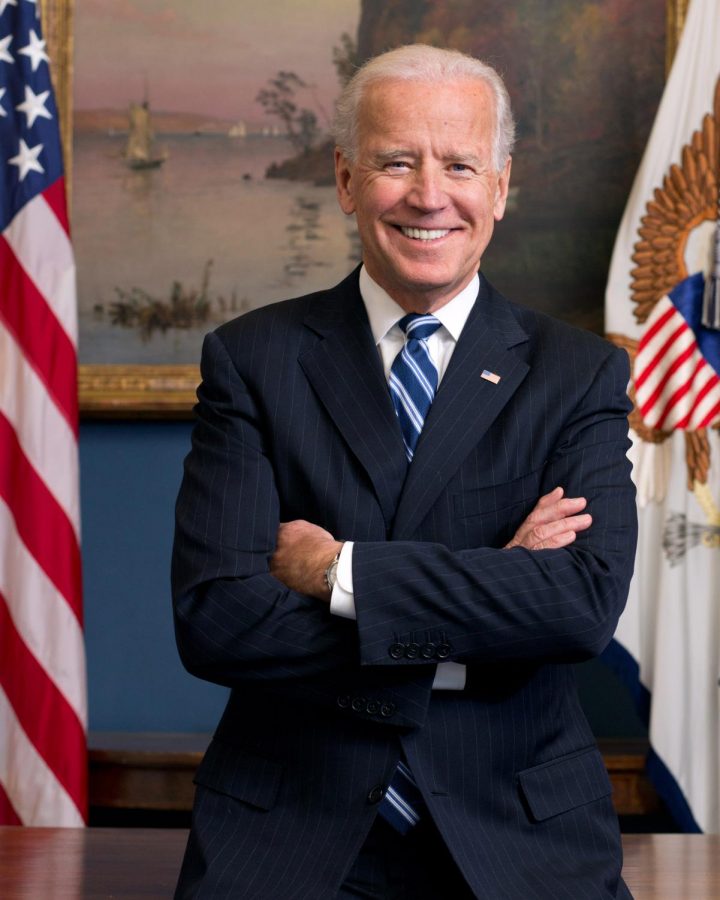 David Lienemann, Public domain, via Wikimedia Commons
The Vision is edited and produced by students attending the Mississippi School for Mathematics and Science. The views expressed are solely those of the student editorial board and do not necessarily reflect the opinions of MSMS, its administrators, faculty, newspaper adviser or other staff. 
This election year is not usual. There have been widespread racial justice protests, over 200,000 deaths from a pandemic and a controversial Supreme Court Justice confirmation. 
Unfortunately, it doesn't seem that the issues at hand are going away anytime soon. Now more than ever, it is crucial that we Mississippians band together and elect those who truly care about the future of our state and country as a whole.
This year, that means electing Democrats. Not only would America benefit from having Joe Biden as our next President, so would Mississippi. Both Joe Biden as President and Mike Espy representing Mississippi in the Senate would be the ideal outcome for all Mississippians. 
Alas, both Biden and Espy face an uphill battle. Both are currently campaigning against their incumbent opponents, Sen. Cindy Hyde-Smith and President Donald J. Trump. Notably, both Hyde-Smith and Trump have a huge advantage in Mississippi because they are Republicans. In the past decade, Mississippians have fallen into the predictable pattern of voting for Republican officials in state and national elections.
This predictability has fostered an apathetic environment for change, as Mississippi's government officials are calm and unrushed. Many of them, like Hyde-Smith, understand many Mississippi voters dislike liberal policies and vote Republican by default. This has prevented issues such as healthcare and poverty, two major problems that Mississippi struggles with, from being addressed. 
Having Espy represent Mississippi would not only allow change to occur in the upcoming years, but it would also fundamentally change how Mississippi's elected officials act in office. The boat needs to be rocked, and this is the year to do it. If Espy were to win, Republicans in Mississippi might finally realize that they are not invincible in elections. This change would make them much more likely to finally make positive changes in order to get re-elected.
Biden and Espy hold similar views and support changes that could dramatically improve the lives of Mississippians. One of the most forefront issues in our state is healthcare, especially due to COVID-19. Biden and Espy want to maintain the Affordable Care Act, while Trump wants to repeal it. On a national level, Biden plans to build on the Affordable Care Act "making our health care system less complex to navigate."
Espy would ensure that these changes benefit Mississippians. According to Espy, a quarter of a million Mississippians do not have the confidence of medical insurance because of Mississippi's refusal to accept a Medicaid expansion (a state-level decision). Already, Espy has promised, if elected, "to browbeat the governor and the Legislature" to expand healthcare. If Biden were elected President, he is very likely to expand healthcare for many Americans, but having Espy represent us in the Senate would ensure these changes benefit Mississippians. 
The Democratic candidates also have a more practical and measured approach to assist the country and individual states in recovering their economies. Until a proven vaccine is created, Democrats have plans to prevent COVID-19 from getting worse and supporting those who have felt the economic impacts of the virus. Biden has specific plans laid out to help Americans and our economy during and after COVID-19.
Espy believes that stimulus checks, like the $1,200 one earlier this year, need to continue, as well as unemployment benefits. He also believes that a Medicaid expansion could help long term. Espy understands the seriousness of the issue, but Hyde-Smith does not even have a specific plan laid out, which is a trend among many Republicans. She also said, "I don't see why Mississippi would be lagging that far behind," compared to other states in defense of her belief that Mississippi does not need long term federal assistance. However, Mississippi's employment and wage recovery is significantly slower compared to most states. 
Biden and Espy also have plans to help Mississippi where it matters most: agriculture. Espy acted as Secretary of Agriculture under Bill Clinton and has repeatedly shown his support and understanding of rural America. Alongside Biden, he will work to improve the support towards hardworking Mississippians in agriculture. Biden plans to implement creative economic development strategies to improve the lives of rural communities and help the next generation of rural Americans. Espy has already said he will "work with any President and any administration to improve opportunities for Mississippi's farmers and make sure those opportunities directly benefit them." 
If elected, Espy will be the first black Senator for Mississippi since Reconstruction. His election could act as a symbol of Mississippi finally catching up with the rest of America. Having senators like Hyde-Smith, who gained national attention for her joke about "public hangings," only keeps Mississippi in its dark past. The Republican party has come to see Mississippi as a safe state and therefore does not make an effort to try and "win" Mississippians over by implementing beneficial policies. Voting blue would fundamentally shift our political landscape and make Mississippi a state both parties would fight for and prioritize. This is our chance.