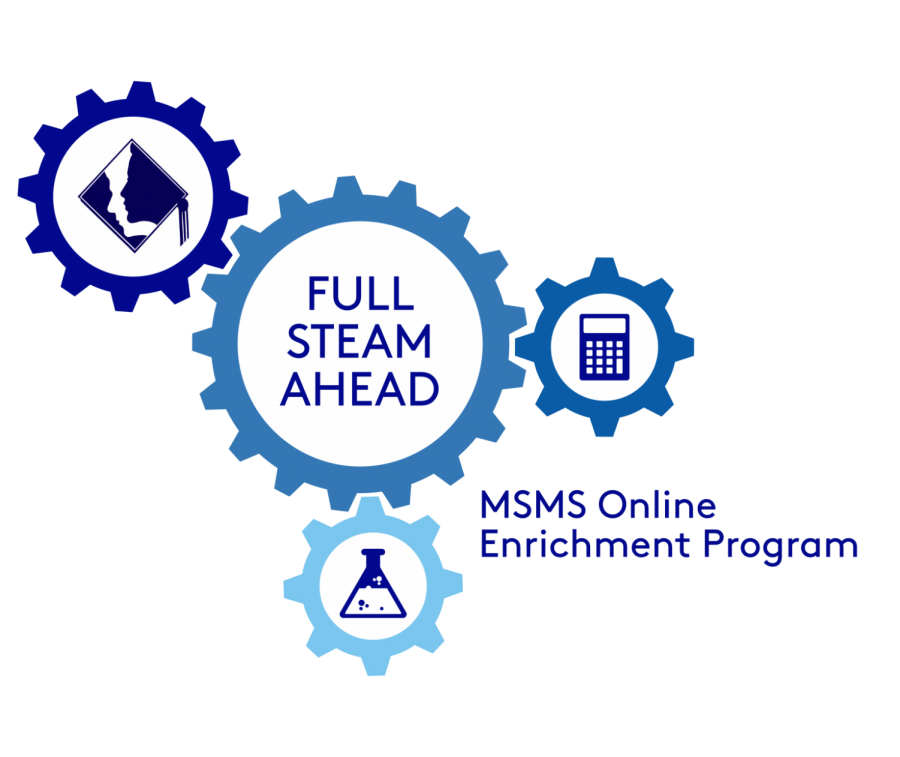 Courtesy of Lauren Zarandona
MSMS has launched "Full STEAM Ahead," a free online enrichment program that targets to create STEM and fine-arts activities for both students and their families. 
The Full STEAM Ahead program is co-directed by math teacher Lauren Zarandona and Director for Advancement Sheila Westbrook. The program grew out of a summer camp by the same name." When Zarandona and Westbrook found out that school would remain online, they decided to expand the summer program into the current enrichment program. Currently, the program offers "Weekly Wednesday Workouts: Math to Get Your Mind Moving." 
The weekly workouts are created and led by MSMS Outreach students and usually last for 20-30 minutes. In each session, students are divided into pairs based on grade levels—1st and 2nd grade, 3rd and 4th grade or 5th and 6th grade.
In addition to the Weekly Wednesday Workouts, Zarandona and the Outreach students are currently working with the 2nd-grade gifted students in West Point, Mississippi, who participate in a "problem of the week" lesson.
The first session took place on Sept. 16 at 9:00 a.m. The program continues to host weekly sessions on Wednesday, and students can register to attend a 9:00 a.m. and/or 4:30 p.m. session.
Zarandona describes her enthusiasm for keeping students' minds engaged despite having to make adjustments.
"Right now, students and educators have an opportunity to work together to make the most of our current reality," Zarandona said. "I want every student that attends one of our programs to begin to view themselves as capable problem solvers who are part of a larger community of problem solvers."
Outreach students assist in the program by offering ideas and feedback, creating videos and writing and choosing problems for each session. 
Senior Michael Lu describes his contributions to the program as a humbling experience.
"The experience was super wholesome; it's satisfying to see kids genuinely excited to solve our puzzles and learn about math," Lu said.
Full STEAM Ahead also promotes parents and family members to become involved with the program's activities. Alongside co-director Zarandona, MSMS Outreach students Aabha Mantri, Mason Pettit and Niyah Lockett created a video to teach families a card game. 
Though "Full STEAM Ahead" currently only covers 1st through 6th grade, the program plans to expand into 7th and 8th grade later in the semester. As the school year progresses, Zarandona and her Outreach students also plan to create additional activities, different types of sessions and host family nights.
Students, parents and teachers are welcomed and encouraged to register for a session. Zarandona recommends all MSMS students with a free block during quarter two to assist with the Full STEAM Ahead program.
"I had a really good experience with the video; it made me happy that I was collaborating with my classmates and Mrs. Zarandona to help younger students across the state have fun with math," Mantri said. "With quarantine, it's been hard for students to enjoy learning, so I believe the virtual game will provide them a way to have fun with their friends and become a stronger math student."