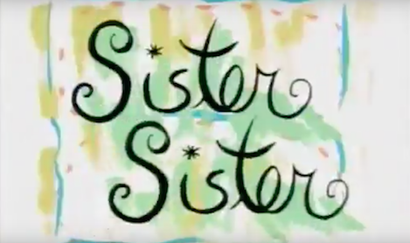 CBS Television Distribution [Fair Use]
"Light-hearted" is one of the many positive ways to describe the 1994-1999 hit sitcom "Sister,  Sister." I watched "Sister, Sister" growing up, and it is hands down one of my favorite childhood shows because of the incredible casting and important episode topics.
On Sept. 1, Netflix added "Sister, Sister" to its "Strong Black Leads" collection in support of the Black Lives Matter movement. The show has recently become a phenomenon again, and it is currently ranked at number 7 of the Top 10 in the U.S. today list. I feel that "Sister, Sister" is relevant now more than ever due to its accurate representation of African Americans. I feel that the show precisely depicts how I feel as an African American teenage girl in our current society.
"Sister, Sister," starring Tia Mowry and Tamera Mowry, follows the life of two identical twins who were separated at birth and both adopted by separate foster parents. Tia was adopted by her mother Lisa Sims (Jackée Harry) and Tamera by her father Ray Campbell (Tim Reid).  One day while shopping, Tamera and her father discover Tia and her mother. Although Tia and Tamera are identical twins, both girls live polar opposite lifestyles. Tia and her mother are not as fortunate, so Ray offers Lisa a place in his home to allow the twins to bond with one another. Throughout the show, viewers are able to watch the characters adjust to their newly formed family. Each episode deals with a different topic relating to real life teen issues such as navigating through the challenges of high-school, sibling arguments and even co-parenting. This is my favorite aspect of the show because it relates to experiences I have gone through. 
While the show may at times deal with heavy topics, the comedic aspects keep the show jovial. The show incorporated many cheesy jokes, which I found to be enjoyable and not the typical cringey TV show humor. For example, side character Roger Evans, portrayed by Marques Houston, often made unwanted and unexpected appearances and brought about the show's iconic quote "Go home, Roger!"
During its runtime, "Sister, Sister" received several accredited awards such as NAACP Image Award for Outstanding Actress in a Comedy Series, Primetime Emmy Award for Outstanding Lighting Direction (Electronic)- Comedy Series and etc. 
"Sister, Sister" is arguably one of the best shows from the 90's era. The cast's acting skills were incredible which made every scene feel authentic. In each episode, I was able to learn a valuable life lesson which was something I really appreciated. I felt that the show was filmed at perfect angles with very few close-ups to help contribute to a more laid-back style. Also, the casting choices helped things feel much more relatable, and I found it overall easier to connect with the characters than any other show. I found my favorite character to be Tia because as the show progressed viewers were able to watch her confidence grow which is something I found inspiring. I undoubtedly would recommend this show to anyone.