Averno hits home with 'Come Home'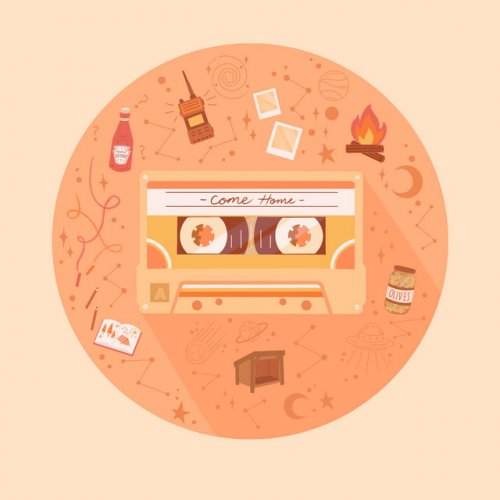 Aug. 27 was insignificant for the average person, but for members of the Averno fandom, it was a day that marked the end of a month long buildup to an exciting announcement. The Averno creative team spent the last 30 days recording three albums for a triple record deal with Broadway records, and they were promising something monumental to their fans.
At midnight, fans collectively refreshed their Instagram feeds for the last time and followed the posted Spotify link to the first EP of the Averno franchise. 
"Come Home" was created by Morgan Smith and lead composer Abigail Greenwood to pay "homage to the feeling so many of us have, that Averno and the family we have found here is home," and features three songs from the Averno franchise, "Forest Hymn," "How to Let Go" and "Nova Phone Home." The songs come from different musicals, and, since the point of the EP was to highlight the feeling of "coming home," they sound musically similar, with the same juxtaposition of lyrics and sound making an appearance in each piece. 
At this point though, you're probably wondering "What the heck is Averno?" Well, here's your answer.
Averno is a multimedia franchise that is best described by Morgan as "the Marvel Universe, but with musicals about gay witches" with musicals, podcasts, comics and magic. Completed works include three musicals, a podcast, a film script and a virtual reality installment in Brooklyn.
Averno consists of more than that though. It's a community that spans across Instagram, TikTok, tumblr, Twitter and Discord to create something never before seen in the entertainment industry. The story expands farther than its completed works with interactive events like Camp Averno (a virtual summer camp) and Freshman Year at A New School (think Harry Potter houses but more chaotic). 
The franchise as a whole changes and grows constantly. Everytime someone new joins the Discord server or creates an original character that fits into the Averno universe or takes the Buzzfeed department quiz for A New School, the universe changes, no matter how minute that change might be.
It's a community that exceeds the fictitiousness of Averno to create a place that's real, a place where anyone and everyone can find acceptance.
"Forest Hymn," a song that's independent from any one Averno musical, is essentially the theme for the entirety of the Averno Universe.
The song is a lullaby you can feel in your bones. The deep resonance of the violin and the mysticism of the vocals and lyrics remind you of a siren song that is luring you farther and farther from the life you know. It has the same folksy vibe as "Strawberry Blonde" by Mitski, giving listeners the desire to dance for hours on end while simultaneously filling them with a heartbroken yearning.
The song is meant to personify the call of the Forest, both within the Averno universe and outside of it. 
The Forest in Averno lore is alive. The spirit of a heartbroken witch, Aster, ripped a hole in the fabric of the universe and created the Forest as a safe place for anyone "who's been hurt, anyone who needs protection." In it lives the Wild Ones and the Shadow Mothers, the spirits of Aster and all of the other women who chose to stay in the forest who serve as its guardian.
The Wild Ones are anyone who has ever wanted a sanctuary where they could just be themselves without fear or shame. "Forest Hymn" was written for them. It's the pull of the forest that anyone searching for a home knows. It's the ache for somewhere you've never been, but you know. 
The next song on the EP, "How to Let Go," tells a more direct story. It comes from "Willow," a musical that's set on the edge of the Forest that follows the story of two couples, a girl, and her imaginary friend with one element of their stories remaining consistent, the willow tree they all met under.
"How to Let Go," a bittersweet love song,  tells the story of Cassia and Grace. Cassia is a Wild One who had decided she would stay in the forest and become a Shadow Mother when her time came. She meets Grace in 2006, and, what was supposed to be an easy transition of becoming part of the Forest, is suddenly harder than she ever thought it would be.
The lyrics describe the feeling of falling in love with someone you shouldn't have fallen in love with. Paired with the resonance of the minor chord progression on the piano, it tells a story that anyone who has been in a relationship like that recognizes, that choosing to stay is sometimes the hardest choice you can make. Cassia had found love, and she was so afraid of what would happen next. All she wanted was to go home.
But, where is home when your body is on Earth and your mind is being pulled elsewhere? 
Averno is a community of people whose childhoods were spent poring over fantasy books and wishing more than anything for it to be real. They were the children who knew what the Gryffindor common room looks like, who went through the wardrobe into Narnia, who went on quests out of Camp Half-Blood. 
There is nothing they know more than a feeling of home for a place they've never seen and never will.
"Nova Phone Home" is the last song on the EP and from the musical "Over and Out." Like Cassia, Nova is a Wild One, but where Cassia chose to stay, Nova chose to leave.
She starts her freshman year of college at A New School, but as you may have guessed, growing up in the forest isn't the best preparation for college. She's completely unequipped to face the world and misses every reference thrown her way. She lacks the ability to catch social cues and doesn't even understand how facial expressions work. 
Thus the joke begins: Nova is an alien.
A direct reference to "E.T.," "Nova Phone Home" communicates her desire to return home.
Nova of course misses this reference, and all she can think of is her family, or lack thereof, that she misses so terribly.
The melancholy of the piano strikes a chord in the hearts of anyone who has ever known they can't go back to how it was before but who desperately wish they could. All they can do is keep going and find a family somewhere else.
The message of "Come Home" is something precious to the members of the Averno fandom. It's made up of people from all walks of life who know what it's like to be alone, to wish for something more than this life can give them. It's made of people who found a home with each other.
The EP may be short, but its theme represents that.
Here's your sign. The Forest is calling you home. Will you answer?
About the Writer
Mabrie Woods, Staff Writer
Mabrie Woods is a senior from Olive Branch and Louisville, Mississippi. She loves all things Broadway and one of her favorite pastimes is learning how...