Fighting for Change
November 21, 2019
In order to combat gun violence, many people, myself included, believe in a peace plan known as C.H.A.N.G.E. This consists of six bold steps that should be considered to address the national gun violence epidemic, put together by March for Our Lives. They created C.H.A.N.G.E. as a part of their "Peace Plan for a Safer America."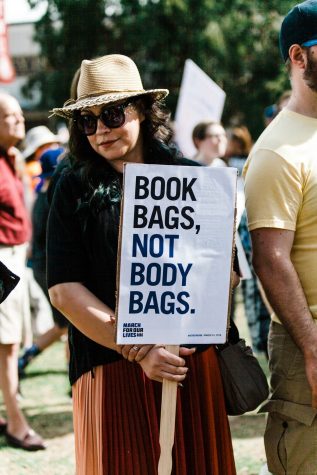 The first step is to Change the standards of gun ownership. This means advocating for gun legislation which would raise the national standard for gun ownership-universal background checks and policies to disarm gun owners who pose a risk to themselves or others, such as people with dangerous mental illnesses. 
The second step is to Halve the rate of gun deaths in 10 years. The government should mobilize an urgent and comprehensive federal response: declare a national emergency around gun violence and announce an audacious goal to reduce gun deaths by 50 percent in 10 years, saving 200,000 American lives as a result. 
The third step would be Accountability. The government should hold gun lobby and industry accountable for misguided behavior meant to shield themselves and to fully repeal the Protection of Lawful Commerce in Arms Act, which stops gun companies who market their weapons to at-risk males from being held accountable for their actions. 
The fourth step is to Name a Director of Gun Violence Prevention, who would operationalize federal goals in stopping gun violence and oversee gun violence prevention research. This position is well-needed because we have no government office committed to gun violence prevention, despite it being set to take the stage for the number one cause of death in teens.
The fifth step would be to Generate community-based solutions, such as mental health programs, suicide prevention programs, etc. This would be such an important implementation, especially with the importance of mental health in preventing future tragedies.
"
To all the young people out there, do not think your voice does not matter."
— David Gipson
The final step is to Empower the next generation by doing things such as mailing voter registration cards to all US citizens when they turn 18. Empowering young people is one of the most important parts of the plan due to the fact that we are affected on great scales by gun violence, considering it is the second leading cause of death for adolescents. Not to mention that young people are the ones who will be running the government in the future, so it's best to empower them and get them invested in politics at an early age.
While many may not agree with the C.H.A.N.G.E. plan, it still follows one basic principle: the government needs to figure out how to solve the gun violence epidemic. Too many American citizens have fallen prey to this wave of violence, and legislators should be passing bills to stop it. 
To all the young people out there, do not think your voice does not matter. If you feel that gun violence has gone too long unchecked, then stand up and fight. 34,604. Let's use our power and our voices to half that number in the near future. Only together can we inspire lawmakers to take a stand and pass gun-smart legislature. 
Stand up to the NRA. Stand up to Congress. Break the stigma. Let's stifle gun violence in America, together.