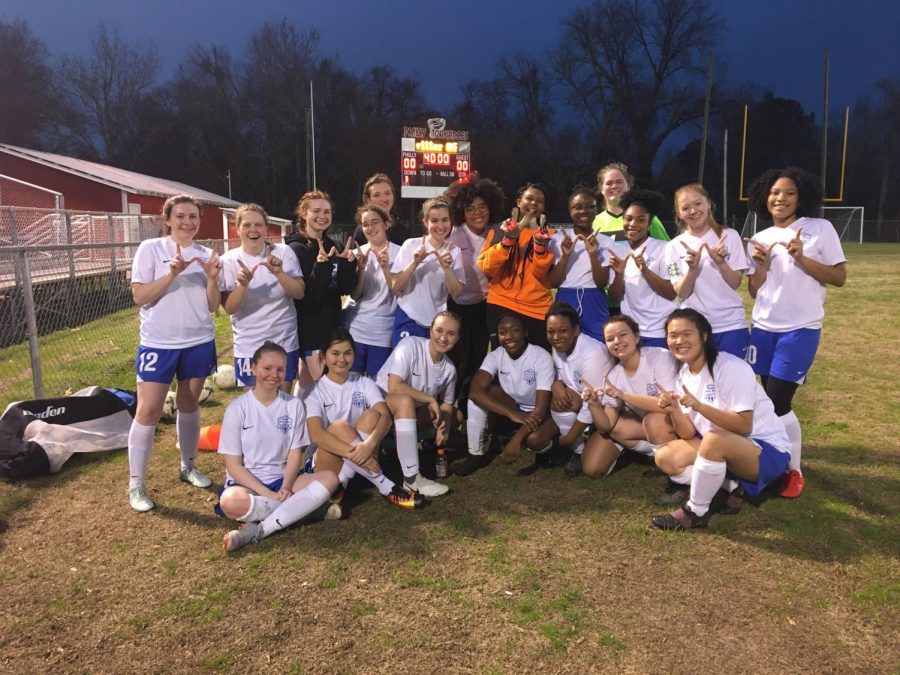 Courtesy of Chuck Yarborough
The MSMS Blue Waves and Lady Waves competed against the Tornadoes at Philadelphia High School on Jan. 9. The MSMS Lady Waves won their game 7-0, and the Blue Waves fell short in a close match with a score of 2-1.
Senior co-captain Tierah Macon led scorers with three goals. Junior Amanda Anderson had one goal and three assists, while junior Emily Berry had two goals. Senior Chloe Jackson added one goal. Goalkeepers senior Amyria Kimble and junior Camille Newman had a successful game with three saves each. 
"We were pleased with the effort and growth as a team we've seen after our long winter break," said head coach Chuck Yarborough. "I'm looking forward to our seniors continuing to help our team grow and improve through the second half of our season."
Macon was proud of how the team performed after a one-month hiatus.
"I think it was a great start to come back after not practicing for a month. It was a good game, and we played really well," Macon said. 
For Macon, this game marks the amount of progress the Lady Waves has developed over the season. 
"I think everyone has gotten better, and I'm really happy where everyone is. A lot of people have come farther than I thought they would, so I'm pleasantly surprised," Macon said. 
The MSMS girls improved to 5-3-1 for the season and 2-2 in Class 1-3A Region 4.
In the boys match, Junior Cameron Wright scored the lone goal for MSMS.
"The boys fought hard and battled in an extremely difficult environment, and I was so proud of their perseverance and work ethic," said head coach Tim Wood. "We worked hard, but in the end we just didn't put away the chances that we did have. It's always tough to lose a close game like that, but I definitely felt we were the stronger team, and we showed so much resilience in the way we played tonight."
Wright also felt proud of the effort his team put into the game. 
"As a team, we fought hard for the whole game. Even though the result wasn't what we wanted, I think we can all say it wasn't because of a lack of effort," Wright said. "Due to the loss, we can't advance to state, so as a team, we are going to have to redefine our goals for the rest of the season. Whatever they end up being though, I can say for sure that I look forward to finishing the season out with the team who has played alongside me these past months."
The MSMS boys fell to 3-5 overall and 1-3 in divisional play.
Both teams will play at Yazoo County on Thursday, Jan. 16. The girls kick off at 5:30 p.m. and the boys at 7:30 p.m.