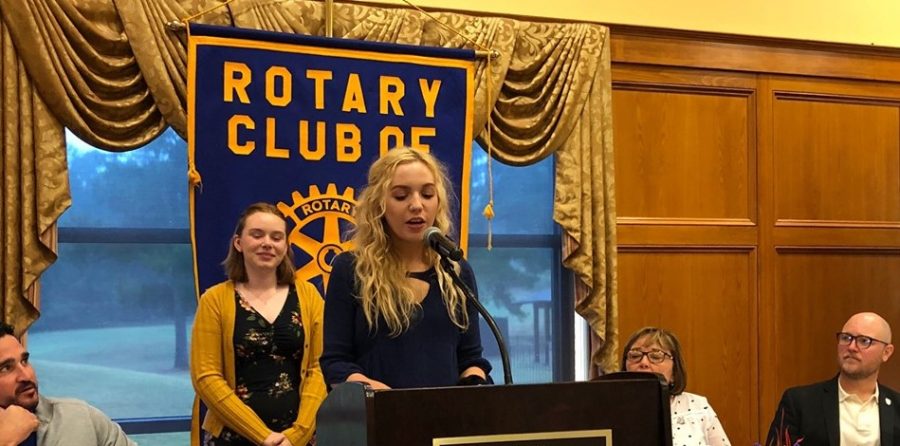 Courtesy of Rotary Club of Columbus, Miss.
After kicking off the new Interact Club here at MSMS, senior Alden Wiygul and junior Gracie Rowland spoke to Columbus' Rotary Club members at Lion Hills Country Club to present the club's goals. 
Interact Club is a youth service club and a subsect of Rotary International, an international service organization aiming to bring together business and professional leaders to provide humanitarian services. Rotary members assist their local Interact chapters. 
Wiygul founded MSMS's Interact Club this year after her positive experience with Lowndes Young Leaders, a leadership program for high school sophomores sponsored by the Rotary Club and the Mississippi University for Women. 
Last year, Wiygul was invited by Lowndes Young Leaders to attend the Rotary Youth Leadership Awards (RYLA) in Jackson, MS. This event jump-started Wiygul's interest and desire to start an Interact chapter at MSMS. 
"A lot of the kids that went there [RYLA] were a part of their Interact Clubs back at their home schools. [The Rotary Club] had them talk about their Interact clubs and what they did," Alden said. "They kind of promoted it getting started at our school, which really inspired me."
Rowland was also a part of Lowndes Young Leaders and attended RYLA last year with Wiygul, which Rowland described as a "really great experience." Her past experience with Rotary and personal passions motivated Rowland to become secretary of Interact Club. 
"I love Rotary," Rowland said. "Service above self. Doing community service is such a transformative experience, and it's a really good way of being empathetic." 
Interact Club has begun making plans for major fundraisers. At the Rotary Club's luncheon, Wiygul discussed the upcoming thrift store fundraiser. 
"The plan is to sell student-donated items to MSMS and W kids and donate all the money to Hurricane Dorian relief," Wiygul said. 
Wiygul is also in the process of hopefully starting a variety of events and projects for Interact.
"We are currently working on getting an application for painting one of the utility boxes downtown, and we are working on getting a TEDx event," Alden said. "We are also going to do specific things as the seasons change, like with exam season we're hoping to get the Humane Society to bring puppies, and you pay to pet a puppy. We would donate all that money back to the Humane Society."
Although the club is just getting started, Rowland is already thinking of possible projects that she can do as secretary this year and possibly as president next year. Being a Columbus native, Rowland is aware of the number of issues and organizations present within the area. 
"[I want to] do a lot of fundraising things for the Columbus community so we do have a large number of homeless people," Rowland said. "[I also want to] do something with Donate Life. Maybe do some type of awareness activity to get people to sign up."
As president and secretary, Wiygul and Rowland are striving to create as many meaningful projects and events that can be passed on to future Interact Club leaders.