Orientation week at MSMS: the junior and senior experience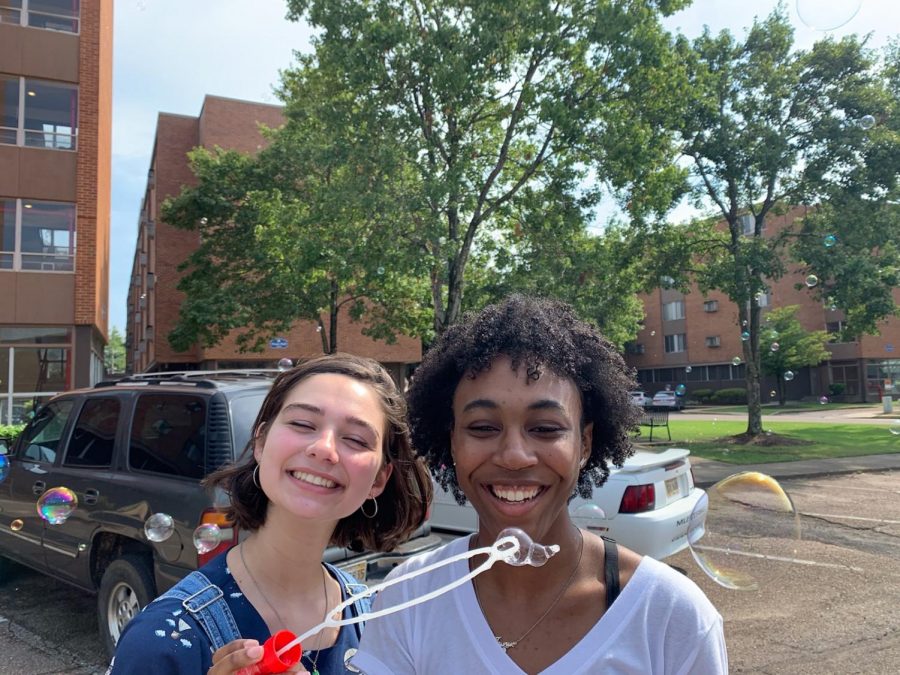 August 3, 2019 marked junior move-in day—the day that the class of 2021 embarked on a journey that will be filled with new knowledge, new experiences and new classes and classmates. Joined on two days later by their seniors, the two groups were thrown head-first into a whirlwind of a week, highlighted by seminars, orientations and traditions like Ceremony of Lights and Opening Convocation. After Ceremony of Lights on Sunday, senior Faith Brown of Cleveland and junior Niyah Lockett of Aberdeen sat down to discuss their first week of the 2019-2020 school year.
How was your experience moving into MSMS?
Niyah Lockett: It was really easy! Mostly because the emissaries got everything out of the car and did the heavy work, so all I had to do was put everything where I wanted it to go. It was pretty easy.
Faith Brown: It sucked. First of all, as seniors we didn't have as much help. It was just me and my mom, and I also hated how we had to go straight into something else. We didn't get a chance to relax and chill because, you know, it is a new environment all over again.
Describe your move-in day in one word.
NL & FB: Hot!
In general, what did you think of the orientation?
NL: It was long, and overwhelming. There was a lot of information for us to take in in less than a week—it was useful information, just a lot to take in.
FB: I felt like it wasn't needed as much. We seniors remember last year—we learned from our mistakes. And I get that we needed some of it because new things are being implemented, but I feel like overall, it should have been a little less.
This year, seniors put on a big welcome at the "I Am MSMS" dinner. What did you think of the new and potential tradition?
NL: I was really like—what's going on? I thought, for a second, I was in the wrong room! It was kind of awkward at first but then I was like 'Okay! Let's go!'
FB: It felt very wonderful—I liked the idea behind it. I think all the clapping may have been too much for some people, but it was cool how open about it everyone was.
Every year, juniors take a practice PSAT during orientation week in preparation for the national test in October. Niyah, how was the PSAT?
NL: It wasn't that bad. It felt like any other test. I'm always tired when I take tests—I could have twelve hours of sleep and as soon as I open my test book I'll be ready to take a nap. I usually do better in reading and English, but this time I did better on the math section. It was good to see what I needed help with.
Opening Convocation was on Tuesday. How was that experience for you?
NL: I really liked it. I'm a very emotional person and everything is over the top, like a movie, in my head. I was like, this is really happening. It made everything feel real. It was nice.
FB: I feel the exact same way. The alumni speaker was from Cleveland, and it really made me want to shed a tear, especially since this is senior year. It was really good and interesting. I didn't get on my phone once.
A critical portion of the week was the orientation seminars. Juniors did the wellness seminars first, then the seniors. What are your overall thoughts on it?
NL: It was really interesting, actually! I really enjoyed the physical wellness—like the yoga. It made me want to sign up for a class. I really liked Mr. Yarborough—we got into some really deep stuff. At first, we were cutting up paper and I was like, 'why are we doing this?' but then we saw what they were talking about and we were like 'oh!'. I also liked the mental wellness orientation, and the mediation we did at the end was very calming.
FB: Yes! It was fun! Yoga was very interesting—it was the best thing I had done that day because afterwards I felt like something happened in that moment of calmness. The meditation was nice. Mr. Yarborough and his session were nice too.
Another added seminar to orientation week is "Connections," which aims to build a strong, close-knit community. What was your experience with that like?
FB: It was very interesting—I loved Dr. Easterling's part. He really got down to us about college and told us how it was important for us to form connections with our teachers. I loved Mr. Green's part—he really broke it down to us that sometimes we need our peers more than we think, and how having a friendship or a connection with someone can help make life easier?
NL: First I went to Dr. Morgan. Talking to her and meeting her while getting to know the other people in our group was really fun. Then, I went to Mrs. Zarandona and Dr. Odom, and that was really cool too; they had us make an outreach plan. It was fun to have to think outside the box and see how many different ways there really are to get your outreach plan out there. Last, I went to Mrs. Barham. We basically did activities to break the ice with our classmates.
The first dance of the year is considered to many an informal celebration one week after moving in. What was it like for you?
NL: It was so fun! I'll turn up regardless—it's easy for me to have fun. I'm not a tough crowd, so it was fun for me.
FB: It was awesome! The DJ and the music? So much better. I enjoyed seeing our juniors come out and know that it's okay to chill with us (seniors) and show their true colors so it was really nice!
How was your first week of classes?
NL: I mean—I don't feel like I can give you a good answer. I've only been in the classes once, maybe twice. But I already know some classes are gonna be tough and what classes I feel like I'm more prepared for. For example, I changed my schedule to take American Literature with Dr. Easterling, but I missed the first 30-minute block, and I already feel so behind. So,I know I need to stay on top of that class. But for the most part, I think I got this!
FB: It was really good. I always say, about MSMS, that it's the teachers who make the classes, not the classes themselves, and even though I know so many of them from last year, I'm very happy with the teachers I have!
Ceremony of Lights can be an emotional experience for some, whether it is excitement, eagerness, sadness, etc. Did you feel anything similar?
NL: I honestly wanted to cry! I was like 'oh my gosh I'm a piece of the puzzle!'. It's really nice—the speakers make you realize that this is a great opportunity. Not everyone can do this. So, I'm really starting to feel like I actually do belong here, because I think a lot of people go through that. They're like 'I'm not smart enough to be here, and that's kind of how I feel, but I'm slowly starting to feel like I do belong here. I really enjoyed Ceremony of Lights.
FB: It was my last Ceremony of Lights as a student, and it was very good. I liked the speakers this time, but I was really shocked the Domino's Pizza used to be $5. It was honestly good seeing our juniors actually get accepted and sell their souls—I want them to feel like they're at home because this place will change their lives in so many good ways.
Describe your junior or senior year to come in one word.
NL: Enlightening.
FB: Enriching.
These are two positive 'e' words from a junior and a senior to describe the new school year ahead of them.
About the Contributor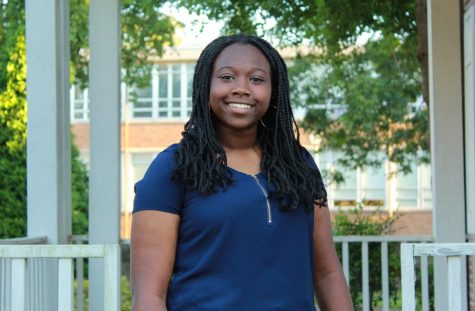 Violet Jira, Opinion Editor
Violet Jira of Cleveland, MS is this year's Opinion Editor. She is a senior at the Mississippi School for Mathematics and Science who enjoys reading, writing,...