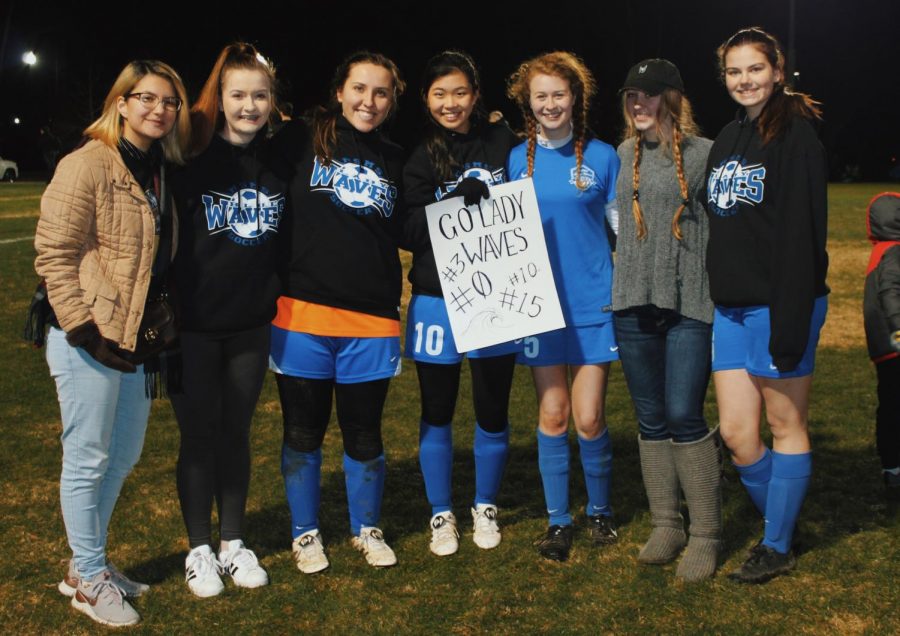 Catherine Li
The MSMS Lady Waves finished the season with a 7-1 loss at Strayhorn High School on Monday, Jan. 28. Losing in the first round of the MSHSAA playoffs drew the season to a premature end for the Lady Waves.
Senior Captain Madison Wypyski scored the lone goal for MSMS.
"It was a struggle on an incredibly sloppy pitch," Lady Waves coach Chuck Yarborough said. "We played hard against a strong team and came up short."
Junior Andie Nanney agreed, asserting that the field was legitimately a swimming pool in disguise.
"I feel like the conditions were stacked against us," said senior Millie Perdue. "We had a really long bus ride and the field—well, my grandmother would say, 'you could find soup thicker.'"
Despite the difficult conditions, the girls persevered through the entire match, according to Coach Yarborough.
"I am extremely proud of the character and grit this team has consistently displayed," Yarborough expressed. "We competed through the final whistle."
The girls' team played hard, according to Perdue, but a few slip-ups (no pun intended) cost them the game. "That's just how it is sometimes," Perdue said with a shrug.
"My previous school was really big on sports," Perdue continued, "and I was always interested, but I was never able to play on any of the teams. But these past two years playing soccer at MSMS gave me that opportunity and the experience I'd wanted. It's hard sometimes going to practice every day, but you realize that you grow as a team. You learn weaknesses and strengths and how to work together."
Especially at MSMS, a prominent aspect of soccer is learning how to improve together with one's teammates. It's "pretty impressive," Perdue expressed, that MSMS gets as far as it does, since every year the school has a new team. "We do pretty well, considering we haven't played together for three or four years like other girls," Perdue said.
Yarborough agrees. "About twenty percent of our student body plays soccer, and both teams learned this season the two great lessons of competitive sports: One, if you work hard at something, you will improve yourself, and two, if you work hard together you will improve your team or community.
"A lot of credit goes to our senior leaders who have embraced a shared purpose and led the 'soccer sisters' to two consecutive winning seasons and playoff appearances," Yarborough said.
Altogether, the Lady Waves finished a productive season at 6-4-1.