MSMS SADD Club Hosts Seminar on Mental Illness
On Wednesday, Nov. 28, MSMS senior and president of the Student Against Destructive Decisions (SADD) club, Lilian Le, hosted an informative seminar on mental illness, which also doubled as a wellness seminar. At the seminar, Le gave a presentation and provided statistics about mental illnesses to a packed Hooper Auditorium. (One fact was that 1 in 5 youth aged 13 to 18 years old experience a mental disorder at some point in their life.)
Le also explained common stigmas against people with a mental illness; these stigmas, according to Le's carefully cultivated PowerPoint slides, have many sources—both from the public and the individual consciousness. Le elaborated on how a common public misconception—that some people are more susceptible to developing mental illnesses due to genetics, even though mental illnesses do not discriminate. Le clarified that anyone could be diagnosed at any time.
The lights in the auditorium were subsequently dimmed, and Le showed her audience a video that displayed real life stigmas against mental illnesses through a social experiment conducted to raise awareness about the process of living with a mental illness, ultimately demonstrating that people who suffer from mental illnesses are not lesser than those who are undiagnosed. The video began with two interviewers introducing themselves to a person or group of people. An array of segments from multiple interviews followed, in which the interviewer asked the interviewee a series of hypothetical questions of what they [the subject] would do in situations regarding people with mental illnesses—be it involved in a romantic, employer/employee, familial or friendly relationship. Selected clips of the subjects being interviewed described people with mental illnesses as being "crazy," potentially harmful or incompetent, conforming to uncomfortable societal stereotypes.
After the interviewers exhausted their list of questions, they revealed that they were clinically diagnosed with depression. They had written a letter that the subjects were instructed to read aloud. The letter explained what it was life was like having to deal with depression, and what they have learned from it. Many of the readers were moved to tears. The final frame of the video was a black screen with white words saying,
"
"Mental illness does not discriminate, so why should we?""
"The video was certainly impactful," stated junior Elijah Dosda after the viewing. "You could just feel the tension and emotion in the room afterward. It really stung and brought out hard facts we need to confront as a society."
Hang on for a minute...we're trying to find some more stories you might like.
About the Photographer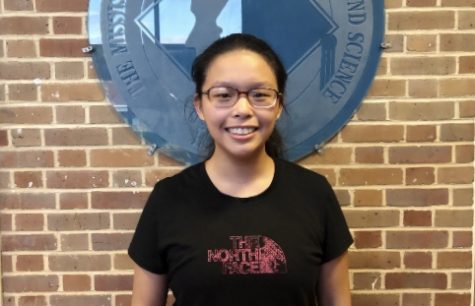 Hua Chen, Staff Writer
Hua Chen, a staff editor for The Vision, is from Lucedale, Mississippi. Currently a junior at MSMS, she spends her time stalking the media, practicing...