Colley: Trump's Era Left Stagnant
It has been nearly three weeks since the midterm elections happened. The results are not necessarily the "Blue Wave" that the Democratic Party had hoped for; however, they certainly are not what the Republican Party and President Donald Trump wanted either.
Going into the election and during the campaign, it became blatant that the Republicans were going to lose ground in Congress. This is not just a historical trend of ruling parties losing support to the opposition but also Trump-era conservative talking points alienating segments of the population. This is best shown by the GOP making it clear that the least they wanted was to keep control of the Senate, almost seeming like they had given up on keeping the House. This judgement was well-founded considering the popular vote of the House elections showed the Republicans being handed their worst defeat in history. Despite this loss, the Republicans managed to make gains in the Senate, ensuring at least two years of new levels of gridlock.
With these facts in mind, it's probably safe to say not much will change in terms of governance and policy being passed through the Federal Government despite what the fearmongering from the GOP might lead you to believe. A Democratic House of Representatives will definitely be able to churn out liberal-leaning proposals and policies, especially considering the unity they have unlike the Republicans under Trump. However, nothing will come of this most likely. Without it being in the Democrats' hands, the Senate will not pass any of it in return or vice versa. This situation is set in stone, no matter the outcomes of the elections too close to call or the run-off for the special Senate Election here in Mississippi.
Overall, this election does bring to the table an old but important moral: your vote counts. While the 2018 midterms have had the highest turnout of any midterm election in US history, there were plenty of races that could have been decided with just a matter of relatively few votes. An example that simmers in my mind is that of Ted Cruz's reelection, which he led by only 200 thousand. This may seem like a lot, but in Texas, this is a disparity in votes that can easily be overcome by slight increases in turnout.
With this being said, there is still one Senate election to be decided, the Senate run-off here in Mississippi. The race between Senator Cindy Hyde-Smith, Governor Phil Bryant's appointed replacement for former Sen. Thad Cochran after his resignation, and former Representative Mike Espy has yet to occur, and those who are registered are eligible to vote. This is your opportunity to have your voice heard and to potentially shake up the political status quo of our state. Go vote on Nov. 27!
Hang on for a minute...we're trying to find some more stories you might like.
About the Writer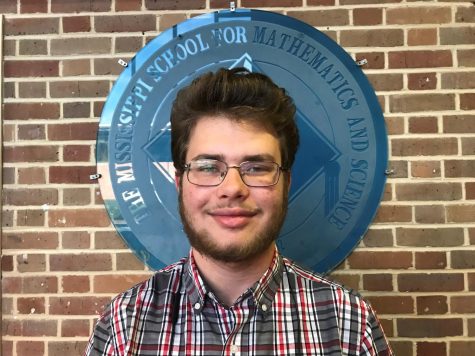 Caleb Colley, Lead Copy Editor
Caleb Colley is a senior from Walls, Mississippi. He formerly went Lake Cormorant High School before coming to MSMS. Caleb can often be found taking refuge...