MSMS Has its ION the Prizes at MS State Science Fair
On Thursday, April 5,  Helen Peng, Gary Nguyen, Liz Huynh, Hamilton Wan and Edith Marie Green represented The Mississippi School for Mathematics and Science at the Mississippi State Science and Engineering Fair (MSEF). Held at Jackson State University, the annual competition asks students to present their research in categories from Biochemistry to Robotics and Intelligent Design in order to compete for various prizes.
The students representing MSMS placed in all of their topics. Nguyen and Peng placed second and third respectively in Earth and Environmental Science; Huynh placed second in Microbiology; Green placed third in Behavioral and Social Sciences; and Wan placed fourth in Biochemistry.  
Peng, a junior, set out to explore new ways to treat water when conventional methods would not be feasible.
"My project is about designing a sustainable and cost-effective method used to disinfect water targeted toward emergency situations where the normal water treatment system would be broken," Peng said. "I used water-filled plastic bottles with a Titanium Dioxide photocatalyst coating and exposed it to the sunlight for the ultraviolet light to kill microbes and break down toxins. I also added a Tromb-meinelle cusp reflector to enhance the disinfection. At the end, the method (Solar Water Disinfection) was improved by over 200%."
Huynh, junior, also sought new methods of disinfection, but in her case with skin health in mind.
"My project is to examine the effects of mixing essential oils on E. coli. Hand sanitizers are really harsh on our skin through repeated use, so I want to mix natural oils with a moisturizing base to create a hand sanitizer lotion. I used Eucalyptus oil and tea tree oil as the active ingredients and coconut oil as my base. What I found was the different chemical components in these oils somehow cancel each other's antimicrobial activity out," Huynh said.
This competition is great experience for students of all ages. It gives them the experience of conducting independent research and experiment on a scientific topic. This often takes many months and most have worked on their project since the beginning of the school year or during the summer before. This also gives the students participating an opportunity to look at other experiments on many sides of science students might have never seen before.
Another important part of this competition is the other skills the participants gain from committing to this project.
"Science fair is always something I've participated in and enjoyed. I usually do the Behavioral and Social Science category because I really love sociology. It's cool to see what other students are thinking up and what they're learning. It's also good for building skills because you have to plan and execute your project, and then present about it to someone you don't know," Green said.
Hang on for a minute...we're trying to find some more stories you might like.
About the Writer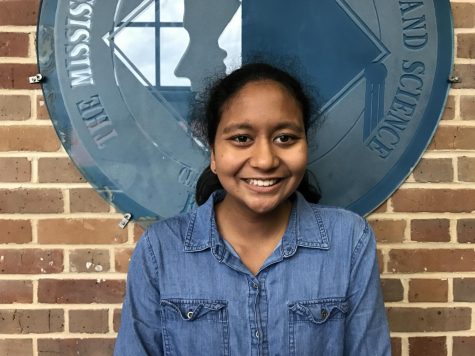 Likhitha Polepalli, Staff Writer
Hello world! I am Likhitha Polepalli and currently a junior at MSMS. I came from Northwest Rankin High School in Flowood, Mississippi.  I enjoy listening...