Student Spotlight: Lydia Holley
From Pontotoc to Columbus, Mississippi, Lydia Holley traveled here to challenge herself academically. Her home school is Pontotoc City High School, but now she attends the Mississippi School for Math and Science. Often, she reigns over her dorm room. When she is not in her dorm, she sings, participates in Spanish, Latin and many other clubs, and serves as the president of Performing Arts Club.
Singing has been a part of Lydia's life since she was three years old; now fifteen years later, she is even better than before. For over ten years now, she has been singing joyfully in choir. One of her favorite memories of singing in choir was the first time she had ever sung in the church choir. Currently, Lydia is involved with the MSMS Blue Notes. 
"
"I felt blessed to be able to to sing with the adult choir.""
— Lydia Holley
When she is not singing or in class, Lydia spends her time in clubs like Spanish and Latin. In Spanish Club, Lydia is the vice-president and was the president during her 8th, 9th and 10th grade years. "I fell in love with the Spanish culture in 8th grade," Holley says. One of her favorite things to do to get ready for Spanish Club is make homemade guacamole and salsa.
Aside from Spanish Club, she also participates in Latin Convention. To get ready for the Mississippi Junior Classical League (MJCL) Latin Convention, she helps with costumes and aides in fixing the chariot. Last year at convention, she played Iphigenia in a costume competition and Helen of Troy in the video competition. This year she portrayed Hypermnestra, a daughter of Danaus, in the costume contest as well as in the skit. You can check out the 2017 skit below.
Being president of the Performing Arts Club makes her the head writer of the Madrigal. "The Madrigal is a fun time for musicians to put their acting skills to work. While most people have been in theater, we tend to make it rather cringy." The Madrigal is an annual play and concert put on by the performing arts students. Every year it is rewritten by the students, usually keeping the same time and place. This year the Madrigal is based on the game show "Wheel of Fortune," but in medieval times.
Lydia Holley is a talented girl who sings, cooks, does costumes, and writes plays. Her friend, Likhitha Polepalli describe her as, "a smart, kind, and creative individual."
Hang on for a minute...we're trying to find some more stories you might like.
About the Writer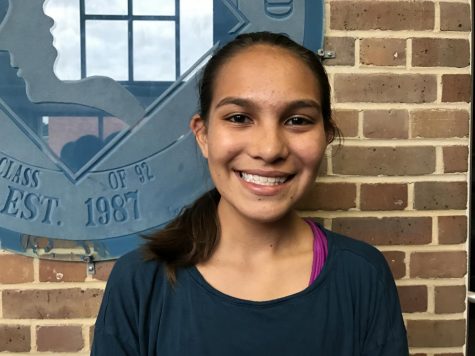 River Gordon, Staff Writer
I'm River Gordon, and this is our newspaper. I'm here with my old man, Yousef and my teacher Mr. Richardson-. Everything in here has a story and a price....